Sunday
Scene and Heard
Wedding Joy in Kalapa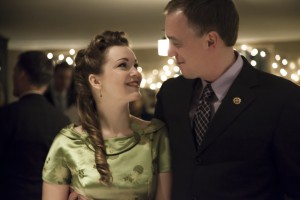 by Basia Solarz
photos by Benny Fong
Meghan Moody and Glenn Austin were married in Halifax, Nova Scotia on February 15, 2013 at the home of Sangyum Wendy Friedman and Mr. Ben Fong. Sangyum Friedman officiated the Shambhala wedding ceremony and offered a khata to the couple on behalf of Sakyong Mipham Rinpoche.

Glenn and Meg both came to the dharma in their late teens. They first met at the 2008 Magyal Pomra Encampment at Shambhala Mountain Center but it wasn't until they were both in San Francisco during the Sakyong's teachings in early 2012 that they really got to know each other. Their relationship grew while they both provided service to the Sakyong and Sakyong Wangmo at their home in Boulder, Colorado.
After their service in Boulder ended, they each went in different directions for work (Toronto & NYC). However, as with many long-distance relationships, being so far apart made it clear that they wanted to be in the same latitude and longitude. They decided to marry and make their home in Canada, which is why Shambhalians living above the 49th parallel north are cheering.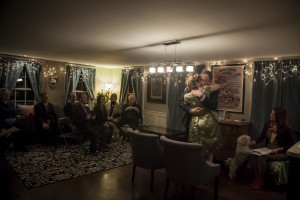 I asked Meg to share with me how being a Shambhala Buddhist inspires her view of marriage. She offered, "Together, we can go beyond the limits of our stories and habitual patterns. We can continuously wake each other up, through fearlessness and compassion, to the sacredness of each moment. To see one another, and our world with fresh eyes and a light sense of humour – over, and over, and over again."
Congratulations, Meg and Glenn!
Post Tags:
Kalapa Court
,
Wedding Announcements