Sunday
Scene and Heard
An "All Day" Grin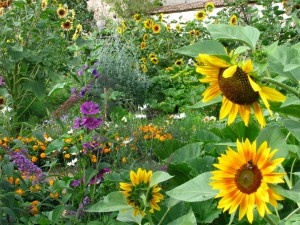 The Shambhala Times is delighted to announce joyful felicitations on the marriage between Koos de Boer and Nicolette de Hoop, neighbors of Dechen Choling in Sainte-Marie-de-Vaux, France.
report from Maggie Lewis
It's hard to know how to describe perfection, but you just know it when you witness it. There is a huge feeling of joy and warmth in your heart, which turns into an all day grin.
Koos and Nicolette's wedding day was just like that. Despite the usual things that people worry about, there was not a cloud in the sky. The careful planning over the last few months was all done and everyone was ready. The night before, the happy couple had hosted a dinner party at their house for all the guests who had come from far away. Nicolette said she wanted people who hadn't seen each other in years to have a chance to say hello and catch up. It was a very kind and thoughtful thing to do. But then, those of us who know both Nicolette and Koos know them to be the dearest and most generous warriors.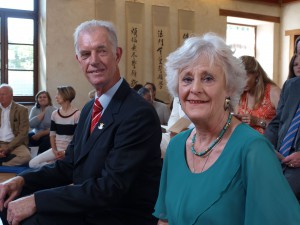 The ceremony was in Drala Hall at Dechen Choling, which was now full of family and friends all waiting for the bride and groom to enter. Acharya Sabine Rolf and her husband Hans-Willi would be performing the ceremony. The shrine was lovely, with beautiful roses and their offerings in the front. Suddenly, music began and in walked our dear, dear friends, looking like a King and Queen and totally radiant and beaming at the gathering. The ceremony was explained to the visitors who were not familiar with a Shambhala wedding. The explanation was warm and clear. Everyone was excited, and felt included while enjoying the ritual of the offerings to the six paramitas.
Following the kiss, the exchange of the rings and the vows, everyone left for the reception outside at the boutique. There were more wonderful flowers and a bamboo tower in the middle of a table piled high with champagne and canapes. Then the wedding "cake" was brought in. It was a pyramid of homemade macaroons in at least 6 colors and flavors. This incredible creation by Francoise Mourmont was absolutely stunning, delicious, gorgeous, amazing, there is nothing else to be said! Following this was the performance of a serenade by the Dechen Choling staff, accompanied by guitar and saxophone, followed by songs especially composed for Koos and Nicolette.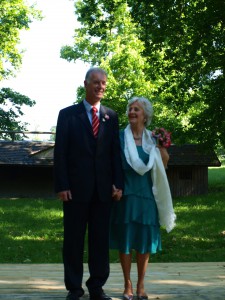 Then it was time for some of the guests to move over to the neighbouring house for the wedding dinner party. A tent had been set up for the chef who had cooked three kinds of tajine. Duck, lamb, and a vegetarian option were all served with cous cous and plenty of delicious wine. This was the time for family toasts and Nicolette's eldest son brought tears to all our eyes when he raised a glass to the happiness of his mother being with Koos all these years. He said these were the years she had been the happiest.
Wedding presents were offered at the end of the banquet and included a golden horse rupa for their shrine and a painting by Temo Svirely (a very dear Ukrainian warrior who died a few months ago and had been sponsored by Nicolette a few times). Also offered was a unique book – "Liber Amicorum", pulled together by Luz Rodriguez and Hermien Rodenburg, in which friends around the world contributed. As Luz and Hermien shared in sourcing stories for the book, you can see the manifestation of Koos and Nicolette's partnership: "Chances are that at one point or another you experienced some kind of generosity coming your way from Koos and Nicolette. It might have been an invitation for dinner, an offer to drive you somewhere, an item that you forgot to bring to DCL, a free treatment, something that needed repair, a sleeping place, an on the spot Qijong session, translation at the doctor's, a happy hour drink and chat, a loving presence next to your hospital bed, annual packing to make room for the Sakyong to stay in their home, help in numerous set-ups for Court, or 'just' a present for some other occasion."
More toasts and jokes and laughter continued until it was dark and everyone moved back over to Dechen Choling to finish the night off with a big dance party. It was in the Kudo barn which had been decorated with colored lanterns and a huge keg of chilled local beer and a massive strawberry cake. Everyone got into the spirit as the music rocked on. Koos had chosen many of the tunes that were played and he and his wonderful new bride were out there on the floor until past midnight. As they waved good night and drove away, we all knew that we had just had one of the best days of the year.
~~
Did we miss your exciting announcement? Send it to us!
Post Tags:
Wedding Announcements