Tuesday
California, Arizona, Community Articles
Learn to Meditate Here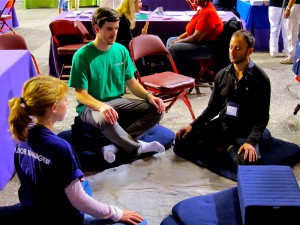 by Kate Summers, member and Head of Outreach at the Shambhala Meditation Center of Los Angeles, California
During the 20th to 23rd of October, sixteen members of the Shambhala Meditation Center of Los Angeles participated in the CareNow LA health clinic at the LA Sports Arena, which is the largest of its kind in the nation. Roughly 5,000 people with little to no health insurance came to receive free medical, dental, vision, and alternative healthcare treatments. In the words of meditation instructor volunteer David Fraioli, the CareNow clinic provided "a great gathering of merit and virtue," and offered a manifestation of basic goodness.
The Shambhala Meditation Center of LA (SMCLA) was one of a number of exhibitors on the floor of the Sports Arena, though what we offered was unique. We created a meditation area with tables, chairs and cushions so that patients waiting for their various appointments could learn about meditation and receive meditation instruction on the spot. Between 250-300 people who were mostly patients, but also volunteers and staff, experienced meditation with us over the weekend. A large number of them left with a plan to continue meditating and to attend a public sitting at our main center in Eagle Rock, at one of our meditation groups in Westside, LA, or down in Orange County.


What struck all of us was how open and curious people were about meditation, and how thirsty so many of them were to receive instruction.
"People responded directly to being seen directly," said Joel Wachbrit, former Co-Director of SMCLA. "We were able to touch basic goodness to basic goodness."
Anne Saitzyk, Westside Co-Director, asked a woman who had just meditated for the first time what benefit she might gain in her daily life from sitting, and she said, "I'd be aware of all the goodness that surrounds me, always! There's mostly good. It's just the bad stuff tends to be louder."
Lisa Oxley, one of the founders of SMCLA's Aprenda a Meditar, our Spanish Outreach Program, gave instruction to a Spanish speaking woman who responded with the clearest description of basic goodness anyone could give. She said: "It made me feel like everything is just fine. Even though I've got problems, still, everything is just fine." Ms. Oxley expressed amazement at hearing that statement "coming out of someone's mouth after just a few minutes of sitting with her own mind. E Ma Ho."
Many others said they believed meditation would help them to feel more relaxed, less stressed, less angry and less rushed. The openness and open-heartedness of the people who sat quietly with us, amidst the crowds and noise of the Arena, was "very moving and inspiring."
It was "front line training," (Wachbrit) and we were "so in the right place at the right time." (Saitzyk).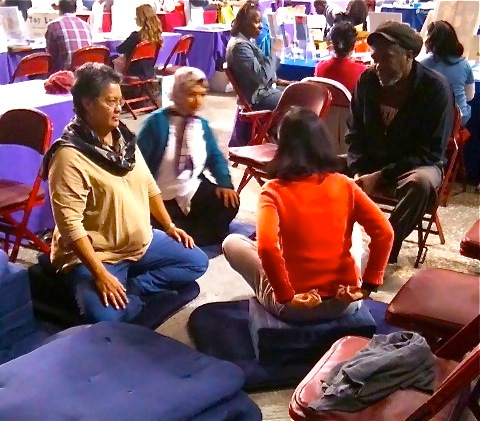 Jason Elias, SMCLA Head of Communications, went straight from the close of CareNow to attend our Westside Sunday Sitting. He was sharing in the post-meditation discussion about how moved he had been by the people he'd met at the clinic, when a young man spoke up to say that he himself had received meditation instruction from us just a few days before! He had come to CareNow with his mother because they were uninsured and had not received medical attention for years. He said that he had always been looking for something like what he received from us at the CareNow clinic, and had come to our Westside center for more. He brought his girlfriend with him, and both planned to return the following evening for the opening night of our new twenty-something sangha group!
"I was touched by his enthusiasm and moved by the fact that our Sangha's talking a leap was having such a direct and immediate response," said Mr. Elias.
Our SMCLA mini-mandala of Communications (Jason Elias), which is comprised of both Outreach (Kate Summers) and Publicity (Eric Chau) has been inspired and plans to roll out more activities like this for our sangha in the coming months, so we can continue taking our precious Shambhala teachings out into the world.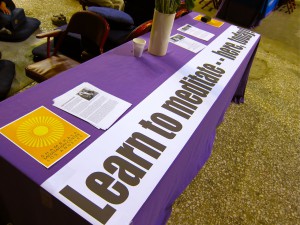 Post Tags:
basic goodness
,
meditation