Monday
Community Articles
Do You Have a Windhorse Ally?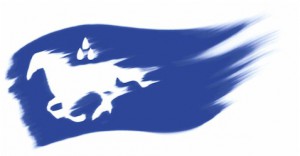 COLUMN: Good Practice
by Emma Cataford and Geoff Cox, Boston, MA
Here's a common struggle for anyone who has tried to establish a regular meditation practice: how do I motivate myself to sit consistently? Developing discipline is central to a meditator's experience; some people are naturally organized, others find it difficult to keep to their practice schedule. If you're part of the latter category, maybe you could benefit from committing to a Windhorse Ally.
The idea for the Windhorse Ally Commitment came about through noticing the powerful peer support already occurring in the Boston Ziji Collective/30s and Under community in the context of Social Meditation. Developed by Shastri Nick Kranz, Social Meditation is a practice of cultural transformation in which meditative awareness is applied to social engagement. The form used is group and partnered dyad practice – being present with body speech and mind with others with bravery and vulnerability.
This can create a culture, where we are not ashamed of who we are – in nowness.
The form of Ally practice emerged as a natural extension of this present and engaged connection. In making a commitment to a Windhorse Ally there is a clear intent of being present with a partner in a committed way, and this allows for peer mentorship to develop. This is not an official Shambhala practice. Instead it is more of an evolving exploration of how we can practice taking relationships as path and establish structures that raise group windhorse, while also acknowledging that in our busy modern lives it can feel hard to maintain our spiritual friendships.
After spending a long time trying to come up with a descriptive name that wasn't "buddy system," Geoff Cox, Continuity Director of Boston's 30s and Under group, finally thought of Windhorse Ally Commitment when introducing the idea at the end of a 30s and Under retreat at Karme Choling in the summer of 2013. The name seemed to resonate. The word "windhorse" expresses the inspired energy of wakefulness and potentiality that we learn to ride in nowness. A feeling of group windhorse is one of the many magical qualities we often feel at the end of a program, but it is so often quickly lost when we return to our daily lives. The word "ally" expresses the kind of equal power, eye level relationship of trust and deep listening. It also hints at the next word, "commitment" because its Latin root alligare means to "bind to." The word "commitment" is a reminder that to overcome the feeling of being pulled in many directions and the speed that seems to pervade our modern existence, we have to strongly proclaim, commit to and be accountable to what we value in order to stay connected to our deepest intentions and motivations. This kind of commitment is a reference point that can be inspiring, supportive and challenging, often all at the same time.
The partnership is forged in a relationship of complete respect by upholding three commitments:
Relating to each other from a place of authenticity, bravery, and vulnerability
Striving to see each other's basic goodness
Supporting and uplifting each other on their journey
When two people decide to explore being Windhorse Allies, they engage in a short visioning process to understand their individual and shared aspiration and expectation of the relationship, with the three commitments above as their foundation. They decide on a duration of their commitment and then agree on a frequency of meeting, which can been in person, through skype or by phone. Meetings usually consist of a period of meditation followed by a dyad practice and check-in where they practice deep listening and genuine sharing.
The adaptability of the Windhorse Ally Commitment is part of its appeal. "We have met on Skype, by phone, in parks and in bars", says Jenny Guth, a member of the Boston 30s and Under group, "We've never had a plan. Asking "How is your practice?" can lead to talking about any aspect of our lives."
While this practice is not a replacement for the support of meditation instructors, teachers and mentors, it has proven a very valuable tool for building a deeper culture of nurture and gentleness. It functions best when Windhorse Allies are connected to a MI or teacher that can provide counsel, support and mediation if challenges arise within the relationship itself.
The commitment is often made for a short time of a month or so, and it can be a mutual acknowledgement of the power of an existing relationship or a brave leap into a new one. Whether you already have someone in your life that you turn to for a boost of motivation or you want to seek out someone who you have an initial connection to, it's time to make it official! This can be an experience akin to asking your teenage crush to be your Valentine: nerve wracking and exhilarating at the same time. You might also notice a sense of spaciousness and vitality.
For some, unexpected outcomes resulted in engaging in this kind of purposeful relationship. Peter, another practitioner, observes: "In some ways, it seems silly and inconvenient to schedule a weekly time to sit and chat. Yet, it became invaluable in my personal practice, deepening our friendship, and just having an ally to tackle life's challenges. I was surprised to find my meditation sessions felt almost as if my ally was present. I wasn't just sitting for myself but sitting for him too. The Windhorse Ally Commitment, as simple as it is, provides a natural framework to ground our interaction. The loose yet firm structure of the practice gave us the space to adjust with our busy schedules and troubled minds."
This alliance is not regarded as a space to teach, give advice or try to solve the other person's "problems". As an ally we are training in "listening others into their wisdom." Just fully showing up as a human being and holding space with curiosity and care is enough. This makes this practice incredibly direct and reflective of the present moment.
As one practitioner, D.B., put it: "Unlike daily practice sessions or visits to the Shambhala center Windhorse Ally check-ins haven't yet found a clear place in my weekly routine. This means that I am often unprepared when it's time to call my ally, and my state of mind is drawn straight from my life as it is, with no dharmic context to influence it. This helps me to touch in with states of mind that I might not otherwise have the mindfulness to make contact with. Finding myself having to talk to my ally in this state of mind allows me to confront the resistance of contacting a part of my experience that tends to stay hidden from view."
As mentioned before, the whole system is a flexible form that has taken different shapes to meet the needs and inspiration of people using it. Whether it's centered on a particular aspiration, to maintain momentum between Shambhala training Levels and classes or after a retreat, both allies have the right and responsibility to communicate what they are feeling and needing honestly.
If you're curious about how the Windhorse Ally Commitment would influence your practice, go ahead and give it a try!
~~
Shambhala Times sends out a huge shout-out of gratitude to Emma Cataford who recently served as the Shambhala Times Editing Intern for 3 months. We will miss you!!
Post Tags:
good practice
,
meditation
,
windhorse