Saturday
Community Articles
A Good Salon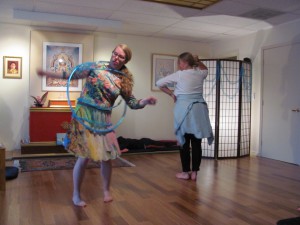 COLUMN: Good Practice
A Window into the Playful Space of Cultural Engagement at the Bellingham, WA Shambhala Center
article by Zoey Moyle
Sakyong Mipham Rinpoche has been strongly encouraging the Shambhala community to actively live the culture of kindness. Outside the formal practice container of retreats, however, we need reminders for how to do that.
We at the Bellingham Shambhala Center decided to enhance our Center's offerings by including more than Shambhala programming. It turns out there is ample room for experimenting with how we can take the kind of culture experienced within the practice container and make it transportable to all other aspects of our Shambhala Centers, lives, and the world.
In my last year as Center Director of the Bellingham Center, I began to explore the form of the salon. Salons originated as a revolutionary act to bring people together to initiate important conversations. Since then, nothing has changed.
Over the last year, my Center had five powerful salon offerings, each focusing on a different subject. The first in the series of salons was politically themed – on the subject matter of Walter Karp. It was hosted by a sangha member who is passionate about politics.
We then had a salon at which a judge from the Bellingham community came to talk about dignified justice within the current judicial system. A sangha member who had experience with the judge firsthand felt he would be a good fit to speak at the Center.
Next, we had the founder of the North Cascades Institute (a place dedicated to wilderness education in the mountains of Washington state) come in and discuss the ordinary magic of the natural world, along with the importance of place according to his experience.
At the last salon, I performed a one-woman show that I composed based on the issue of plastic in the ocean. I presented my own vision for how we, as humans, can attend to a catastrophe by relating with our own minds. The performance itself was a personal experiment focused on discovering how together we can figure out the world's problems simply by interacting with one another. To see how I have composed this, you will have to come experience it at my next performance!
Having created these salons, we discovered that they are effective because people are able to simply be together and participate in things they are interested in. In order to get them there though, they need a good invitation. A personal invitation is best, but it's always helpful to put the word out through the internet too.
These offerings are worthwhile because people can get to know one another for who they are as human beings. Anytime you have people eating food together and experiencing something in a group, humanness can be cherished.
The possibilities, when you really look at it, are endless. Why couldn't we cook together, collect mushrooms, garden, do art with each other, build something for someone, have a current events discussion, or listen to podcasts?
Why not create time in which we give one another what we are really craving: time to be ourselves among others, sharing what matters to us. It seems to me that this is what our training is for – to allow each of us to be ourselves in community.
I encourage you to try the lovely form of Salon in your community! Try it out, and let me know how it goes!
Post Tags:
Bellingham
,
good practice
,
salon