Saturday
Mandala Projects
What's New With the Shambhala Trust

by Ginny Evans and Zeb Zuckerberg
The Shambhala Trust is an independent and ever expanding group of community members who volunteer their resources, time, and skills to help projects that embody the Shambhala vision. Since 1995, the Trust has given more than $3 million in grants to mandala-wide projects. The Trust has been a resource for Shambhala initiatives, but recently the group has also started to look outside of the mandala to organizations that embrace the principals of Shambhala, such as the newly funded Reciprocity Foundation and the Ratna Peace Initiative. For more information about these and all proposals please visit the Trust's website (currently under renovation) at www.shambhalatrust.org which aims to give Shambhalians ready access to information on Shambhala Trust initiatives. View two articles previously posted on the Shambhala Times about the Reciprocity Foundation: Runaway Meditation Retreat, Homeless and (Maybe) Buddhist.

At present, the Shambhala Trust is continuing its expansion phase and has added two new categories of membership (not yet included in the website). Aside from Core and Associate membership there are now Supporting and Contributing memberships. Core members donate significant time and money, attending all of the meetings, reviewing all of the proposals and working with applicants throughout the life of a project. Associate members are asked to donate $2000 annually, Supporting members $1000 annually and Contributing members $500 annually. All are invited to review proposals and attend meetings as they have time.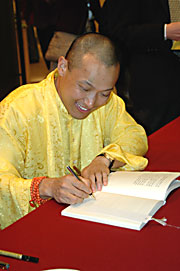 "We have to shift our attitude so that giving is a joy, something we want to do. When we find something we want to do, we always find ways of paying for it, we always find the money."
~ Sakyong Mipham Rinpoche (to the Circle of Kalapa donors), Sackville, New Brunswick, Canada, June 7, 2000
A remarkable number of projects continue to arise across the mandala with aspirations to expand Shambhala vision in the world. Whether global in reach or intimate in scale, all have the potential to help bring about enlightened society and all would benefit from greater visibility and community involvement.
"Trust grants typically represent just a percentage of a project's total needs, and requests often outpace our ability to respond," says John Sennhauser, chair of the Trust.
At the Spring meeting in 2011, Michael Greenleaf, The Wealth and Generosity Acharya, was present as a guest. He noted that we really seemed to enjoy what we were doing at the Trust and offered his view of how this could benefit the mandala as a whole:
"You could be a way for people to come together, to learn, to do interesting things. Everyone has their angle or insight in terms of what needs money now and why, and that could be shared. Some kind of process could happen. You could position yourself as a way to gain perspective about what it means to be a donor in Shambhala, about what it means to be practicing philanthropy altogether in our society, as a way of growing together in creating a society of people who know how to give."

Information about the Trust
As the mandala grows, so grows the Shambhala Trust. Judith Broadus, Chelsea Hoagland, Robert Reichner, Mark Siebold, Mary Whetsell and Jim Wilton have recently joined the Shambhala Trust in working with the practice of generosity. If this is something that interests you, or for more information about the Trust, please contact Zeb Zuckerberg, Trust Administrator, at zzucker (at) shambhala.org.
Pictured below are most of the members of the Trust, click on any photo to view as a slide-show.
Members not pictured: Richard Bascetta, Judith Broadus, Robert Reichner, Robert Schaffer, Mark Siebold, Mary Whetsell, Jim Wilton
Post Tags:
photos
,
Shambhala Trust