Friday
Mandala Projects
Thanking a "Tireless Custodian"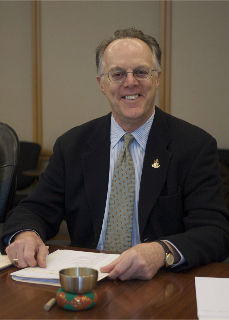 by David Brown, Zeb Zuckerman, Ginny Evans
After over a decade of service John Sennhauser has retired as Chair of the Shambhala Trust. This transition occurred during a meeting of the Trust held in Boston as hurricane Sandy struck the East Coast. His steady presence at the meeting, while his home in New York City was threatened, exemplified his commitment to Shambhala and the Sakyong.
John said of his appointment: "In the Minutes of that meeting, under 'Trust Leadership,' Zeb Zuckerberg, Trust administrator, wrote: 'Mr. McKeever stepped down as Chair of the Trust and requested a one-year leave of absence from Trust activities in order to devote full attention to his new business. Mr. Sennhauser accepted the position of Trust Chair with Ms. Deborah Garrett as Vice Chair both with the stipulation that it be for one year only.'" John went on to chair two or three meetings yearly for eleven years.

John became a student of Chogyam Trungpa Rinpoche in 1977 while attending Naropa University, and served as Kusung to the Trungpa Rinpoche and Sakyong Mipham Rinpoche. Now a Senior Secretary to the Sakyong, he served for over a decade as a member of the Shambhala Board of Directors and was a Trustee of the New York Shambhala Center where he is a senior teacher. He is a founding member of Maitri Dorje, the precursor to Queerdharma in NYC. He is active in experimental theater in New York.
John brought warmth, wisdom, and devotion to his work. During his tenure the Shambhala Trust, which supported about seventy-five initiatives – an outpouring of generosity which will benefit the Shambhala community, and those it touches, for generations to come. (Visit the Shambhala Trust website to see all proposals funded since 1995 along with a brief description, the year they were funded, and the funded amount.)
As his colleague Zeb wrote: "John has always held his seat; he's been the captain of the ship, with a great ability to bring people together and listen to all sides of a situation in an unbiased way. He is always accessible, not just to me but also the entire group, has his fingers on the pulse and remains open to other ideas even if he doesn't agree.
"His critical thinking (lawyerly mind) and excellent sense of humor brings a great deal to the Trust. He has a panoramic view of the mandala, which is definitely important in chairing the Trust. His elegant communication is always appreciated and is a great asset at meetings."

From colleague Ginny Evans: "Without exception and from the first Trust meeting I attended, I have admired his deft handling of the energetic and frank semi-annual meetings of the core of the Shambhala Trust members. In trying to think of an image to describe what he was leading, words such as 'zoo' and 'circus' came to mind, but while somewhat apt, such didn't describe the mixture of thorough work and spontaneous delight that the meetings of the Trust were – as captained by John who had the unenviable task of occasionally having to bring the meeting to 'order'. Fortunately, I won't miss his eagle eye for detail as Greg Lubkin and I attempt to follow this act, as I have extorted a promise of his help and oversight in the transition period. John has been a tireless custodian of the Shambhala Trust for a very long tenure. He'll be with us as we go forward, but his shoes will be hard to fill."
The Sakyong, the Kalapa Council, and the Shambhala Trust are deeply appreciative of John's service and contributions to the development of our Shambhala community.
Post Tags:
appreciation
,
Shambhala Trust
,
thank you