Saturday
Community Articles
Children's Day Celebrations Across Europe
By Liesbeth Scholten and Harald Ronge
At this special time of year – the return of sun at the winter solstice – Children's Day is an opportunity for us to celebrate the light of our society's future, our children. In Europe, several local communities celebrated Children's Day this year, each in their own style and their own language. In the Netherlands, we rediscovered this Shambhala tradition after a gap of multiple years.
We were regular visitors of the local Shambhala center in Amsterdam since 2006. Having never seen any children there (except our own), it appeared to us that Shambhala was a community of adults only. This changed when we participated in Family Camp at Dechen Chöling, France, in the summer of 2010. A rich tradition and culture for families opened to us, with dedicated talks, study and practice materials for parents, playful activities and teachings for children and beautiful ceremonies.

We met many families from all over Europe on the grounds around the Château near Limoges. And we found out there were actually a lot of children within the Dutch Shambhala community, particularly in Amsterdam! So we started organizing activities for families and children in our own local center. We then discovered there are typical Shambhala celebrations at each change of season, called nyida days. This year, on 18 December 2011, we had a midwinter Children's Day celebration in Amsterdam. Many families from across the Netherlands (re)discovered this warm and magical event.
Children's day was celebrated in several other European centers as well. We received contributions from the organizers of Children's Day celebrations in London (United Kingdom), Köln (Germany) and Praha (the Czech Republic). May this tradition keep on spreading further across Europe!
Amsterdam, the Netherlands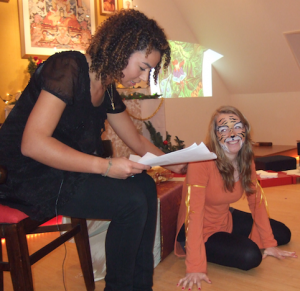 After a beautiful gift ceremony in which the children gave generously to the Gesar Fund's education project, members of the young sangha presented the story of Iliana in such a captivating way, fully engaging children and parents' attention from beginning to end.
Then the children did arts and crafts with Tiger, Lion, Garuda and Dragon.
A banquet for the children in the shrine room and children's performances concluded the wonderful day.

Parents were very grateful that this celebration was organized again in the Netherlands, after many years absence. As one family commented: "It was a very special and inspiring afternoon full of light and warmth. We all enjoyed it tremendously!"
Praha, Czech Republic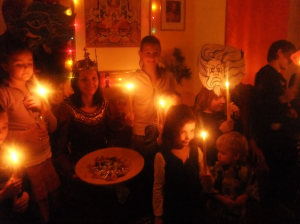 Children's day started with family meditation, after which the shrine was decorated. Then the Iliana story was beautifully told with puppets.
After lunch the four dignities were presented in a circle in the meditation room: Tiger (children walked on an uneven surface), Lion (children were symbolically given a helmet), Garuda (symbolized by a coat) and Dragon (children were given a candle symbolizing a sword). The children lit the candle, bowed to the King and Queen and were offered a sweet.
The children presented gifts to the King and Queen that will be given to a local home for single, mentally disabled mothers.

To conclude the beautiful day, children played musical instruments, sang and told poems. In the evening there was festive food, games and dancing. "As parents we agreed that with each year as we gain more experience we are able to create a more powerful and profound celebration. It was a magical experience for all of us."
Dita Kemp, photos by Jitka Holubcová.
London, United Kingdom
A shadow puppet show based on the Iliana story was the main activity for Children's day in London. Children of all ages were involved in creating puppets, designing scenery and performing the story. There was also a special screening of Crazy Wisdom whilst children prepared a High Tea which followed the traditional Children's Giving ceremony.

"Our Children's day was very inspiring and successful. There were many families present including several newcomers to Shambhala and lots of enjoyment from children and gratitude from parents."
Tim Coxon & Bridgette O'Neill.

Köln, Germany
"Quite a number of our parents (and their children) were away, but we had fun anyway. I was happy we were able to gather. As part of the attempt to attract both teens and older community members, we invited a young teen-aged king and queen to preside over the day. It worked out fine!"
David Schneider, photos by Marita van Heukelom.

Post Tags:
Children's Day
,
Shambhala Europe