Friday
Community Articles
At "Home" in Salt Lake City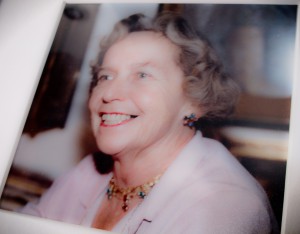 by Vickie Kennedy Overfelt and Jeff Fink
Antelope Island boasts 28,000 acres of sage and rock rising some 4,200 feet from the brackish waters of the Great Salt Lake, the last vestige of an antediluvian ocean thought once to cover the Great Basin of Utah, Nevada, southern Idaho and southeastern Oregon. What little rain falls into the basin doesn't flow to any ocean, but collects here to evaporate in the high heat of summer with the minerals left behind, giving the Great Salt Lake its "salt."
It was here, to a sheep ranch owned by her banker father, that Jane Porter (born Jane Dooley in 1917) liked to sneak off as a girl to spend time with the sheep herders. Jane's father, already a prosperous San Francisco banker, made his real fortune when he moved to Salt Lake City in 1895 to finance the newly-discovered silver mines in the surrounding Wasatch and Uinta mountains. It's said that young Jane was "a little wild," especially for the second daughter of such a prominent Salt Lake family.

Jumping forward to the age of 70, the by-then widowed Jane made the outrageous decision to buy and restore a vacant mansion on South Temple Street in Salt Lake, the "Temple" here referring to the Salt Lake Mormon Temple just down the street. Jane's daughter didn't understand why her mother wanted to take on a project of this magnitude, but did all she could to make this inscrutable dream a reality, including hiring Michael Hall to be Jane's jack-of-all-trades in maintaining the mansion.
Michael would go on to work for Jane for some twenty years, ultimately becoming her close friend and care giver, until one morning in late 2008 when he arrived to find the kitchen empty, the familiar smoke from her cigarette not lingering as usual in the December air. Soon after, Michael would be with Jane as she died in the upstairs front bedroom of the house surrounded by her family at the age of 92.
This is the story that Michael is sharing with those of us gathered around an immense table in this magnificent dining room, rich with its coiffured wood ceiling and shoulder-high burled wainscoting shimmering in the light of a dozen candles. Outside, the grounds are covered with the season's first snowfall though it's barely November. Michael is joining us for the celebration marking the completion of the Shambhala Level 2 class that the Salt Lake City Shambhala Meditation Group (Shambhala SLC) has just sponsored here in what is now known as "Jane's Home," the stunning manifestation of Jane's earlier vision, now a not-for-profit, donation-based event space.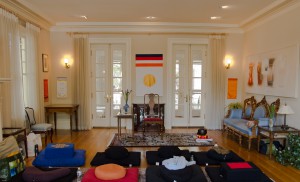 Here we've come: our fragile group of Shambhalians and friends, to share and savor the Shambhala Dharma – first in a Level 1 class in October, taught by Jessie Miller of the Berkeley Shambhala Center, and now, a scant month later, for Level 2 taught by Patricia Kelly from Boulder. We've only been a "real" Shambhala meditation group since July of this year, so this was something of an ambitious undertaking for our "merry little band of meditators."
Shambhala SLC was started in 2008 by Vicki Overfelt, a long-time practitioner and a Mindfulness Based Stress Reduction teacher. In 2010, Vicki was joined by Jeff Fink, a Shambhalian from Chicago who had recently moved to nearby Park City, Utah. Together, Vicki and Jeff, both Shambhala Guides, lead the weekly sitting in Salt Lake City and, more recently, in nearby Park City. Today, the group numbers over twenty (somewhat) regular members who come together to sit, walk and share the dharma in the two locations. With formal approval as a Shambhala member organization, other Shambhalians are starting now to emerge from the surrounding countryside, from tantrikas to new practitioners. The group still feels fragile, but seemingly a lamp has been lighted.
Tonight, some 15-20 participants, staff, family and friends are sharing this elevated space, the evening rich with offerings of poems, songs, homemade wine and more than a couple of jokes. We raise our crystal glasses to the lineage of Shambhala and to Jane, for Michael insists that Jane would have wanted us to use all of her finest things, that she believed such richness exists in the world to be used and enjoyed. Indeed, we all agree that Jane's considerable presence has been with us throughout the weekend, and tonight we are well fed, warm and infused with the gentle richness of this manifestation of enlightened society.
For images from Level 1, click here.
For images of Jane's Home, click here.
The following morning, Jane's Home is dark and empty as the thin sun of a November Monday creeps over the snow-covered garden. If one moves carefully, we like to think it possible to peer into the kitchen window and perhaps see Jane there again at her table. This morning, we might find that she's joined by Chogyam Trungpa Rinpoche. Perhaps Rinpoche has come to share a smoke with his new friend Jane, the two of them smiling and laughing together – two old warriors who definitely know how to "make a proper cup of tea."
Post Tags:
community
,
meditation
,
new Shambhala group
,
Salt Lake City