Friday
Arts and Poetry
Rendezvous with Impermanence
Celebrating Shambhala and the Arts
Two artists – Massimo Guerrera and Sylvie Cotton – share their creative process and expression with us. Both are Shambhala practitioners and long-time trained artists. Their art is inspired by their practice of meditation and the path of embodying creativity.
In these two photos, we see this project: We all come from others (On est tous des autres) (2010-2011), by Sylvie Cotton. This site-specific and mind-specific installation is made from different projects including Sapience, which shows a transformation into thousands of confetti of all the texts studied by the artist during her university studies in museology (1990-1992). Mixed media
Sylvie Cotton is an interdisciplinary artist based in Montreal, Quebec. Her work began in 1997 and is tied to performance, art action, drawing and writing-based practices, although installation forms are also regularly used to put together exhibitions. Her work turns around the creation of situations that establish a relationship with another, or an infiltration of another person's personal world.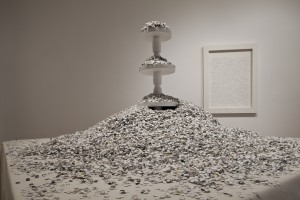 The work is generally created in situ in public or private spaces and the results are subsequently presented in galleries and festivals, or are deployed outside in other sorts of public spaces (streets, elevators, parks and restaurants, for example). Residencies are also used as a medium for creative performance activity. Sylvie Cotton is also a writer and curator. She has organized events, directed publications and been a member of many visual arts working groups and committees. She has presented performance work and installations in Quebec, the United States, Finland, Estonia, Spain and Japan.
She offers us the poem below from her experience at Warrior Assembly.
black dance
my mind
slowly enters the profound mouth of dharma
and move around it's shiny tongue
three turns on the right
three turns on the left
magic, we are one
from this infinite glossy
black lake of body, speech and mind
ink flows
form and emptiness are making love
blood of warriors mixes with milk of queens
all liquors melting into black
black is so elegant
it is time to feel the freshness of the winds
and to hear their voices whispering
let's do it
together
to get her
the big beast of all
the fear of fearlessness
would it be so troubled to be brave?
rising our mind up in the face of heaven
we are kissing the truth
earth's moisture has never been so authentically tasty
riding down the vastness of space
singing ki ki so so
the chant of our union
we hold our hands
before diving into the phenomenal ocean of the heart
salted waters, waves, profundity, monsters and sea stars
suddenly show their fabulous robes
under luminous confidence
under vertical intelligence
so vertical
so now
no reroute
we know where we are going
to the land of let come and let go
disseminating the perfume of our labored hearts
and we spray it all
give all sarva give give hoh
without beginning nor end
we dwell into the colorless magic
the outrageous palace of transparency
well rooted though
as heart and earth use the same seed letters
~~ sylvie cotton, karme choling, 23 août 2010
Massimo Guerrera
employs drawing, sculpture, photography, installation and performance to explore the fertile yet shifting soil of the encounter, a terrain that lies between shared presence and the solitude of the studio. His practice focuses on the way our relationships waver, on how, through our relationships with others and with those who surround us, our minds open or close, our bodies welcome or reject. This exploration stems from a daily practice and involves a series of long-term projects centered on the function and dysfunction of absorption and transformation of states of consciousness.
His project: The Reunion of the Practices (La Réunion Des Pratiques) is embodied in an inner experience and in the elaboration of a platform of mindful practice; that of a supple installation, which is cultivated like a garden, through a series of meetings and space-time (espace-temps) with people, collaborators, friends, spiritual guides, strangers, active participants in the project, as well as private appointments with himself (solitude-habitée). The project offers an alternating current between encounters and solitude, sustained and accompanied by a meditative practice.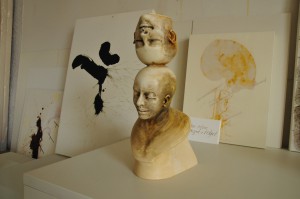 La Réunion Des Pratiques is an open platform that tries to register the many reverberations of these meetings and the affective interactions that are both provoked and absorbed. Taking into account all the tangible and intangible elements that traverse and compose the platform, it develops organically over time. This project is a continuum, concentrating essentially on the embodied experience of spiritual practice and artistic practice; within the "internal studio" of all the participants and the profound union between these two disciplines that have always cohabited in various forms throughout history. It offers a sensitive union between art and the sacred.
Post Tags:
arts
,
dharma arts