Friday
Sakyong and Family
Sakyong Wangmo visits St. Johnsbury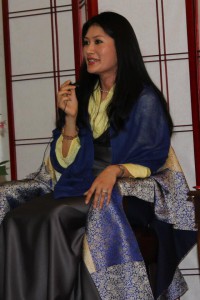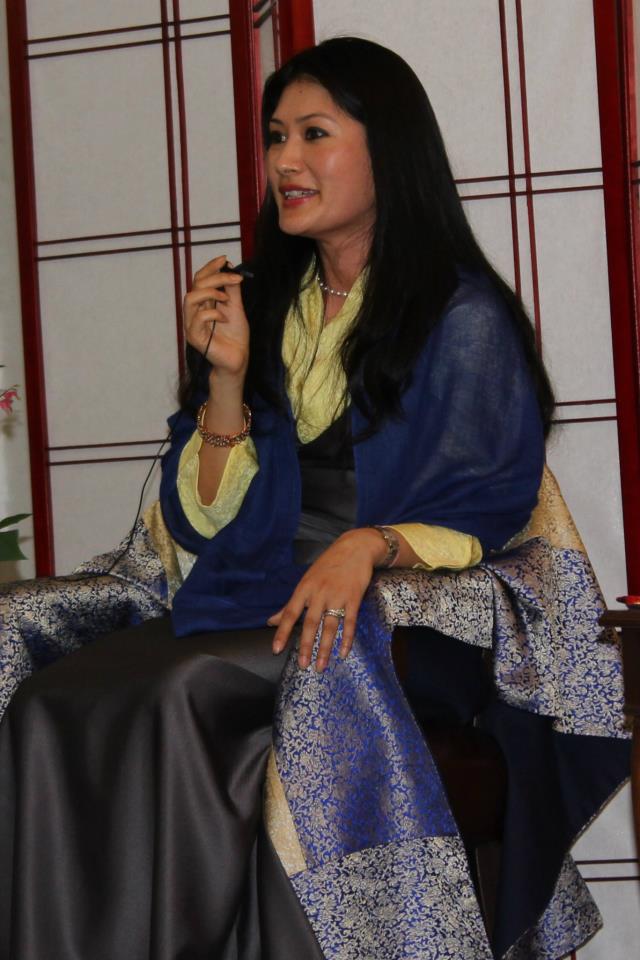 article by Caroline DeMaio,
Co-Director of the St. Johnsbury Shambhala Center
photos by Michael Taney
On a beautiful day in late May, the St. Johnsbury Shambhala community invited the Sakyong Wangmo, Khandro Tseyang to visit our center and join us for a tea ceremony. When we received word that our invitation had been accepted, we went into high gear, sprucing up all corners of our center, decorating, planning the tea, and creating a mandala for the visit. The power of our preparation practice permeated our community and energized the sangha.
It was a sparkling spring afternoon when the Sakyong Wangmo arrived for tea. The lush green hills of Vermont seemed to open right up for her, displaying their soft yet wild essence. It was the first visit of this kind for Khandro-la, traveling without the Sakyong to visit a Shambhala Center. Hosted in our shrineroom, the tea began with a welcome from myself as co-director of the center. Khandro-la then spoke to the gathered assembly, who were beautifully dressed in their spring finery. She said a few words about the importance of joining our practice with our lives, and emphasized the power of household and family. Tea and sweet rice prepared by the sangha followed and the group was entertained by musical offerings from singer-songwriter Linda Waarnar, and banjo playing by Sal DeMaio. Following this, the Sakyong Wangmo then generously received all of those attending, speaking to each of us with heart-felt curiosity and compassion. The joy of the occasion was palpable!
To conclude, Co-Director Greg McNally offered the Sakyong Wangmo an honorary life-time membership to the St. Johnsbury Shambhala Center, and presented her with a pin. He urged Khandro-la to return soon. She was delighted and expressed interest in making more of these visits to centers in the future.
Our northeast kingdom community was touched by the Sakyong Wangmo's generosity and warmth. Two weeks after the visit, our Center still radiates lungta and light!
Click on any photo to view as a slideshow.
Post Tags:
Khandro Tseyang
,
Sakyong Wangmo
,
St. Johnsbury