Saturday
Shambhala News Service
Tender and Valiant: Shambhala Mountain Center
The following remarks were recorded on June 15, 2012 during the Kurukula Abhisheka at the Boulder Shambhala Center by President Richard Reoch. The Abhisheka was previously planned to occur at Shambhala Mountain Center but was relocated due to the wildfire currently raging in the Rocky Mountains.


The High Park Fire that is raging in the Rockies near Shambhala Mountain Center has been in the hearts and minds of the leaders and people of Shambhala around the world. Tens of thousands of forest acres have been destroyed, and countless animals and insects have been killed or forced to flee. Jon Barbieri and his brave staff have been on constant alert as the fire – which is still largely out of control and spreading – continues to threatens the land. They have been posting regular detailed reports to the whole community and have been deeply affected by the outpouring of concern, prayers and well wishes from people worldwide.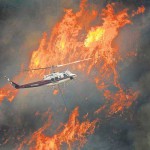 The Sakyong has been in close and constant touch with the unfolding crisis, working closely with the Kasung Khy Khyap Jesse Grimes. He has asked that we support the entire situation as a community of practitioners by giving particular attention to the Gesar and Magyal Pomra protector chants. Last night, at the Boulder Shambhala Center, where the Kurukulla Abhisheka is taking place (it was previously planned to take place at Shambhala Mountain Center) we recited the Magyal Pomra chant seven times, holding this situation in our hearts and minds.
Shambhala Mountain Center will continue to provide updates on their facebook page twice daily (please click here).

Post Tags:
fire
,
President Richard Reoch
,
Shambhala Mountain Center