Monday
Featured Stories
Nature's Hospital, Peru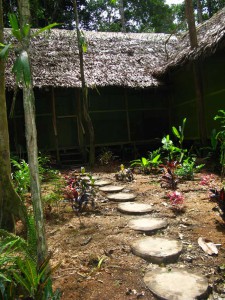 A Place for Uplifted Plant Medicine Healing

article and photos by Brian Landever
Opening Nature's Hospital has been a tremendous adventure in the Amazon Jungle of Peru. What began with a simple solitary meditation retreat led to the most significant project I have done in my life, not for my personal excitement as much as the benefit that this stands to bring others. Nature's Hospital is focused on treating people with chronic and life-threatening illness using only the gifts of nature – the plants of the jungle. What's significant about this? The treatments are gentle, and the techniques come from a long healing tradition within the jungle's population.

Things came to a head when my mother passed away in 2011. It hit deep, and I needed to clear my head and figure out why it felt like I had partially died. Watching her pass was a powerful reminder of death's inevitability, so I chose to do my personal work with something I had been putting off for some time – an intensive ayahuasca retreat in the Peruvian Amazon with a traditional, local healer. My previous use of ayahuasca in Peru 3 years prior had led me deeper into the Shambhala teachings, so I thought something equally fruitful may result. Synchronicities led the way through my retreat planning, and I wound up with a solitary retreat cabin on a large plot of virgin jungle where I would later end up constructing all of Nature's Hospital.
The retreat went great. My solitary time was mainly used for going into post-Vajrayana Seminary practices, my grief loosened, and the healer that oversaw my time, Alfredo Cairuna, frequently brought me into the jungle for long hikes. Our treks quickly developed into a living classroom as he identified endless medicinal plants, each having an accompanying story of treating a particular past patient.
Señor Cairuna has been working as a healer for over 40 years. He began his training as a boy, at the early age of 15, when the village elders of his Shipibo tribe identified him to carry on their healing lineage. After a full year of solitary retreat deep in the jungle and three years of the Shipibo version of medical residency, treating patients with plant medicines beside his teachers, he began treating others independently. By the time I met him, the amount of warm concern for and careful study of others upon initial meetings struck me as a familiar feel to the Tibetan Buddhist teachers I have had the good fortune to meet. Moreover, his healing methods work.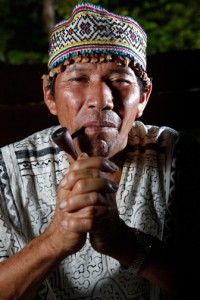 Combining his knowledge of hundreds of plant medicines in the area, Señor Cairuna personally picks the necessary plant parts, prepares them, and administers them along with instructions for dieting in a way distinct to each kind of plant medicine. The diet, he has explained many times, is crucial to make the body properly receptive to the medicine. Without it, nothing improves. Before each treatment begins, Señor Cairuna uses ayahuasca to deeply study a person, developing an intuitive diagnostic which he combines with the diagnosis from the medical doctors. That then provides the base for the way he treats each patient. Throughout a treatment, his continual diagnoses keep him informed as to what healing techniques he should use. For me personally, he cleansed a lifelong case of eczema I had on my hands and arms with a simple month's treatment of drinking an extract. For others, we are currently working on compiling a base of written and video testimonies of the significant cases he has worked on – ovarian cancer, uterine cancer, breast cancer, diabetes, post-traumatic stress disorder, rheumatoid arthritis, and more.
As the retreat went along, Señor Cairuna's increasingly impressive presence began to have an impact on me. I enjoyed being in his warm company, and felt anchored by his grounded mindfulness as my mind began open for new possibilities. Memories of my mother's painful chemotherapy process transformed from haunting visions into gentler sadness, Señor Cairuna's stories of healing woman's ovarian and uterine cancer were beginning to number up, and my contemplations on what to do with my life were being bombarded by a conviction to maintain my Bodhisattva vow in a serious way. Finally, it happened. A perspective shift occurred that made me see what was right in front of me as a solution. I learned during a late night conversation that Señor Cairuna had been waiting for the opportunity to offer his experience as healer to the modern world, while I had been wanting to cause awakening and alleviate suffering. Suddenly, the realization bulb burned bright – we would join together and provide gentle treatments free of extreme side effects.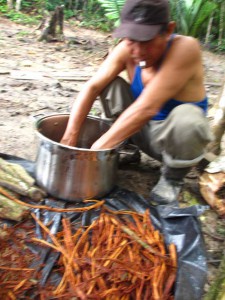 Since November of 2011, we have been working hard to prepare a comfortable retreat center tucked away in the jungle where serious healing can happen in the most relaxed way. First, blessings rained when we were given free access to the 560 acres of beautiful land where I had done my retreat. Given my background with retreats, I wanted to incorporate mind training as part of the healing process for the sake of overall wellbeing, and also to absorb as much of the delicious presence of the jungle as possible. Many comment upon visiting that the natural setting is healing on its own. Making the best of this, we cleared the minimal amount of growth for all our buildings and kept them entirely surrounded by dense greenery. Next, we possibly made record time learning how to navigate Peruvian bureaucracy, from hiring accountants to appeasing local governments with work for their citizens. Yes, quite eye opening for my previously sheltered university-going life style. Finally, for the past several months, we have been introducing ourselves to the outside world as well as constantly making our accommodations more comfortable.
It is dearly important to us that the world know how strong plant medicines can be, that they are a serious option for treating difficult illnesses, and that they are gentle. Plant medicines cause a cure, and many report feeling stronger, less achy, and more alert during their treatment. For those with pain, there are pain relieving plants, and the pain relief is just the beginning of the treatment. We are also dedicated to working as responsibly as possible. All our treatments rely on conventional medical diagnoses before and after to ensure that healing has occurred thoroughly. These records will also develop a base of evidence to support our cultural hunger for facts. Before our patients leave, we also will teach appropriate diet techniques so that they may stay healthy upon their return home. Additionally, we will be working with notable research scientists such as Dennis McKenna, research associate at University of Minnesota and co-director of the Heffter Research Institute. He shares our curiosity to develop a formal understanding of the impacts of these plant medicines.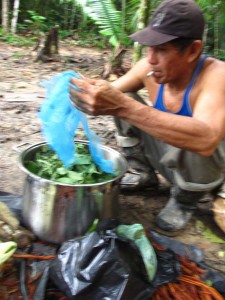 Our goal will be met with each person that leaves free of an illness, feeling strong, happy, and warm. We have met dozens of international people in this area who have worked successfully with plant medicines to treat life threatening illnesses, and Alfredo's lifelong concentration on practicing his long healing tradition stands to heal many more. As this happens, as each person comes, rests into the jungle's presence during their treatment, washes away the stress of the busy world, and gains strength from the plant medicines, it will become apparent how much empowerment we take from nature. Indeed, by blurring the boundaries between living, breathing nature and ourselves, we come home to an unconditional confidence that we in Shambhala know well as basic goodness.
~~
To stay abreast our recent developments and activities, you can friend us on Facebook, like our Nature's Hospital Facebook page, email us a request for our newsletter, and always visit our website at www.NaturesHospital.org. Personal inquiries into treatments as well as ayahuasca retreats on our land may be sent to [email protected]
Post Tags:
Healing
,
Peru
,
sangha activity