Wednesday
Featured Stories
Compassion in Action: The Journey of Medical School
COLUMN: In Everyday Life

Sarah Kimball
of Boston entered into the Shambhala community in 2007, just before beginning medical school at Harvard. Dan Glenn of the Shambhala Times spoke with Sarah about her experience of going through her training while trying to maintain her connection with practice and the Shambhala community.
Could you say a bit about your decision to embark upon this career path?

The honest truth is that I don't remember how I decided to go to medical school. I was an EMT in high school and I loved working with people in that context—when they were scared — which is how a lot of people come to their physicians: they're dealing with mortality, they're in pain, there is something they need help with. To be able to meet people in that spot was always incredibly rewarding and compelling to me.
Starting medical school, you worried about losing your connection with practice, not having the time or space for it, and getting sucked into the cutthroat world of medicine that seems to harden people.
Definitely in thinking about going to medical school, you hear much lore and mythos around how cutthroat it can be. It's interesting because we're a healing tradition. There's this tension between the fact that it's a path that is training people to be healers and the reality of what some of the effects are.
I think I spent a lot of medical school in this state of fear that I was going to lose myself in that. It's been a really interesting path as I watched it — it was so valuable to have my path grounding me. As I think back on that time, that was almost more about the fact that I needed my 20/20 vision. I needed a lot of windhorse to be confident — enough that I could hold my own vision about how I want to do my medical practice, and do it in the current system. Even before I had teachings on windhorse, when I would touch in with the Shambhala community, I would be able to tap into that and feel less scared that my intrinsic value could be lost by an academic process.
I also really had to face my own striving with my practice, especially during residency. During med school I was able to continue doing the Shambhala Training levels and dathun and staffing a dathun, and I felt really involved. Then during residency, it was all I could do to occasionally sit. And I had so much grief about that — disproportionate grief. It was really more about what I was trying to get from my practice, and a sort of a need and tender-heartedness. It really has been extremely helpful for me to step back from that, especially now that I do have my medical practice and more flexibility over my own time, and realize, "Wow, I had so much grasping around what I was going to get out of my practice and thinking 'I could be so much more happy if only.'" That's spiritual materialism.
How about these fears that you had about whether the medical school environment would be corrupting. I know that you went into it very idealistic. Were you able to maintain that? Did these fears prove valid?

I don't think it's melodramatic to say that I wouldn't likely have stayed in medical school if it weren't for my meditation practice, for this reason: There's a lot of literature in the medical education world about ethical erosion and what happens to people as a result of medical training.
I've often thought there are a lot of Bodhisattvas in medicine despite the system not because of it. There are a lot of people who want to be open and compassionate, but get overloaded and burnt out because they don't have a way of renewing their energy, or a sense of compassion and gentleness toward themselves. I spent a lot of time worrying about it, but it's actually my practice and Shambhala that's helped me.
Continually returning to teachings about unconditional goodness and windhorse and how to lift myself up has given me a lot of trust that that's something that's indestructible. It's going through that experience of feeling scared, and touching back into it that's helped it feel less tenuous and less shaky. I feel like it's given me a lot more trust in basic goodness and trust that I can do this work in the way that I want to. And I work now in a safety-net clinic, where that's not easy. There are never enough resources, and our patients have had a lot of tough experiences and need a lot of help — and sometimes it's more than I can give. But that doesn't make me panic in the same way it used to.
You've talked a little about how these teachings have impacted your personal experience working in the field. How do you see the teachings of mindfulness, compassion, basic goodness beginning to permeate the field of medicine?
There's so much interest in mindfulness now, which to me reflects the level of stress and fear that people are experiencing in their daily lives. I think there's a difference between the mindfulness tools that are being taught clinically, which are tools, and in some ways to me feel removed from the most profound teachings of Shambhala. I appreciate that these things are infusing the field, that there's interest, I want people to touch them in whatever way seems wise. But I also think there's a lot to be learned from the Shambhala tradition beyond that, connected with enlightened society, beyond just the clinical utility of mindfulness.
I've thought a lot about the question, "What would medicine look like if we could come at it from a position of unconditional confidence?" It would be so radically different than what it looks like right now. We could come at it less from a place of arrogance and power and fear that we're not good enough, but say, "This is a tradition of people who have open hearts, who want to help people, who have the skills to do that — now how can we do that in the best way possible?" I would love for that to be the vision of the future. There are more and more people who are thinking about this. There were four physicians at the Warrior Assembly I went to last fall — people who are starting to dip into this from different parts of the profession, and I think that's really exciting.
You're going to be writing a piece for the Shambhala Times later this spring about the refugee work you're passionate about. Can you give us a little preview?
It's called the Immigrant Refugee Health Program, and it's a teaching clinic for residents. The're working with newly arrived refugees, most of whom have suffered from torture or disruptive events in their lives. It's such an interesting role: there's both the refugee in this incredibly vulnerable time having their first encounter with the U.S. healthcare system — and also the residents, who are hearing stories that have high affective load, and I am trying to make sure they feel taken care of and supported and feel that they're being beneficial in the face of these injustices that people are facing in our world.
We will certainly look forward to hearing more! Thank you so much, Sarah.
Thank you!
~~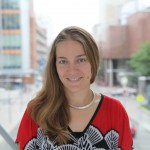 Dr. Sarah Kimball is an Instructor of Medicine at Boston University School of Medicine. She attended medical school at Harvard University (2007-2011) following her undergraduate degree at Brown (2001-2005) and a year in India. She became involved with Shambhala in 2007 through the Under 30 group in Boston a few months before beginning medical school.
Post Tags:
Healing
,
In Everyday Life
,
interview
,
Medical professionals
,
Medical School