Thursday
Sakyong and Family
Enlightened Society Treatise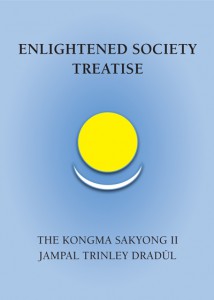 Written while the Sakyong was on his year-long retreat in 2010, the Enlightened Society Treatise clarifies the meaning of enlightened society, a theme that has played an integral role in the Shambhala vision. This theme has been under discussion in our community for many years, but it has not always been understood. The Sakyong is offering this treatise as a way to elucidate the relevance of enlightened society in the modern world. May it awaken the intellect, goodness, and magic of all Shambhalians.
For all of those who have received the lung you are now welcome to purchase this text through Shambhala Media at the link below. Further information about how to receive the lung will be forthcoming – please wait to hear further.

Click here to purchase the text.
Post Tags:
book release
,
Enlightened Society
,
Sakyong Mipham