Saturday
Sakyong and Family, Shambhala News Service
Sakyong launches Running with the Mind of Meditation website
The Sakyong's new Running with the Mind of Meditation website, runningmind.org, goes live today.
It presents his forthcoming book, Running with the Mind of Meditation, to be published in April and gives details of the launch and all forthcoming events.
"You are guaranteed to take away pearls of wisdom to help guide you on your runs through the trails and through life", writes Michael Sandler, author of Barefoot Running, in advance publicity about the book.
The website also hosts 10 short videos that include teachings by the Sakyong, runners talking about their experience of applying his guidance, and sequences from a Running with the Mind of Meditation program held at Shambhala Mountain Center this past summer.

"I have always found a natural relationship between running and meditation," the Sakyong writes in the opening pages of the book. "Running can be a support for meditation, and meditation can be a support for running. Running is a natural form of exercise, for it is simply an extension of walking. When we run, we strengthen our heart, remove stagnant air, revitalize our nervous system, and increase our aerobic capacity. It helps us develop a positive attitude. It creates exertion and stamina and gives us a way to deal with pain. It helps us relax. For many of us, it offers a feeling of freedom. Likewise, meditation is a natural exercise of the mind, an opportunity to strengthen, reinvigorate, and cleanse. Through meditation we can connect with that long-forgotten goodness we all have. It is very powerful to feel that sense of goodness: having confidence and bravery in our innermost being."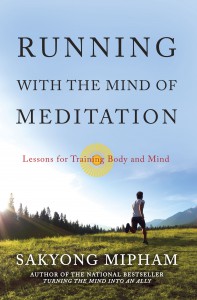 "I very much enjoyed the Sakyong's straightforward, honest style and truly appreciate his view of running as it relates to meditation," wrote Frank Shorter, twice Olympic Gold medal winner, after reading the book. "Both activities are part of the human experience that transcend stress release: easy to describe but forever evolving."
You can pre-order the book from the website. All pre-orders help boost publicity at the time of the launch. You can also request the book at your local bookstores. Preorder it online here: runningmind.org/order-book.
More than 200 runners and Meditation Instructors in Shambhala have volunteered to support activities related to the book release. They are studying and practicing the running meditation instruction and can relate to newcomers who have questions about the technique. Running MIs in many places are preparing to lead Running with the Mind of Meditation programs for running clubs and sports centers once the book is launched.
For more information on programs or to find out who your local running meditation instructors are, click here.
Post Tags:
book release
,
Running Meditation
,
Sakyong Mipham
,
website