Thursday
Sakyong and Family, Shambhala News Service
Sakyong to Perform Healing and Enriching Practices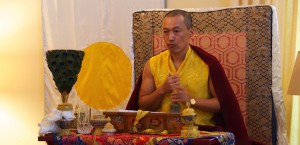 The Sakyong will perform two pujas, or intensive practices, for the benefit of Shambhala this April 8th and 9th. This is an opportunity to request the Sakyong to specifically help a friend, loved one, or ourselves through these practices. The pujas will be Medicine Buddha, for health, healing, and recovery from illness, and Dorje Tsegyal, to enrich, increase, and strengthen the lungta and brilliance of activities in the world.
If we wish ourselves or a friend to be included, it is traditional to offer their name along with an offering to the teacher. These names are read to the Sakyong as part of the puja itself. We can also include a short description of the situation surrounding the request. Both the names and descriptions are kept confidential and burned at the conclusion of the puja. The Sakyong has requested that those who want to connect with the pujas offer yellow and red flowers on the days of the practice. The Sakyong plans to send a gift to those who have requested specific practice during the pujas.
For more information please follow this link. To make an offering and request the Sakyong to include someone in his practice, please follow this link. In the comments field, please type the name of the person you would like to include.
Post Tags:
Sakyong Mipham
,
Shambhala News Service