Monday
Mandala Projects
Meditation Intensive in Prison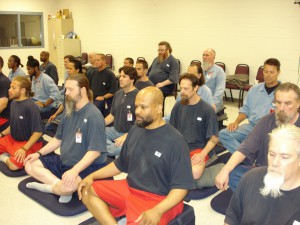 by Skylar Rickabaugh and Ted Fremd, Snake River Correctional Institution

Week long meditation intensive inside Snake River Correctional Institution (SRCI) took place this summer. Within an environment of fear and aggression, a small percentage of the inmates chose to experience a space of listening, contemplating, and meditating.

"This is the hardest thing I have ever done."
Under Chaplain Trime Persinger's coordination, Shastri Frank Ryan generously came to the eastern Oregon "Outback" to direct and co-teach this weekthun, while three Shambhala volunteers at SRCI (Steve Ryman, Ted Fremd, and Skylar Rickabaugh) provided support. Trime's husband, Steve Reedy, supported this effort by providing good food and gentleness after we returned home at the end of each day. We started with fifty inmates, most of whom had been attending regular meditation sessions that have been offered by Trime for the last 5 years. One-third, though, came from the general prison population, never having meditated at all. Forty men completed the program, which surprised many of the correctional staff; some of which acknowledged, "I couldn't have done that myself."
Chaplain Persinger's dedication to bringing warriorship and open heartedness to this "inside" sangha produced an environment that allowed these men a space to sit with their minds and lean into their experiences, as rough as they might be. It was a Herculean effort for Trime to create the conditions necessary to secure a welcoming space within this stark and cold facility that might enable the practice of 50 inmates seeking inner solace. These entailed catalyzing restrictive circumstances, such as frequent institutional inmate "counts", daily distribution of medications, arranging for meals, and a bewildering bureaucracy of paperwork necessary for keeping track of these inmates. Trime admitted to us that, "This is the hardest thing I have ever done" – a surprising admission from a long-term kasung. Although this was an unprecedented deviation from normalcy at SRCI, there was generous support among some of the prison staff to make this week work. The Superintendent of the prison supported the program from its inception, and personally shook the hands of the participants during the presentation of Certificates of Completion during a profoundly moving closing-out "feast."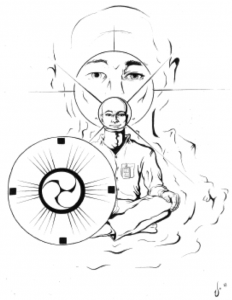 All felt fortunate to be "doing time with Trime." Not only was this transforming for most of these inmates, it also moved the staff who experienced these men "taking their seat," displaying discipline, exertion, and a level of insight that was palpable. Closed, fearful, or angry countenances were transformed into open, peaceful, and even humorous persona's. These men were very appreciative of this opportunity given them. During group discussions, the inmates learned that many people "on the outside" spend thousands of dollars to do retreats like this and voluntarily sequester themselves for long periods of time. They could see themselves "like monks meditating in caves." Doing time could be perceived as a wonderful opportunity. Many acknowledged that, without being in prison, they probably would not have been introduced to these teachings and been able to practice. Referring to their cells one inmate said, "there are a lot of caves in here!"
Shastri Ryan said that this is among one of the most profound retreats he has ever taught, and marveled at the level of commitment they had for the practice. Perhaps this feeling was intensified by the stark contrast of our little container as apposed to the environment of the whole prison. It was an intense demarcation! We have a deep appreciation for these men in continuing their practice – "Start Where You Are" has a whole different meaning associated with it in prison.
A poem by Shastri Ryan after this weekthun concluded: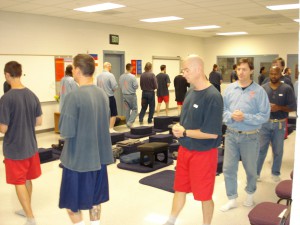 Room of speckled grey tile floor pale green cinderblock walls,
worn denim and navy blue meditation seats;
threading in each morning
through cavernous hallways,
bringing stories we've never been told.
Does it really make sense to calmly abide
in the midst of tedium and tumult?
Explore terrain of the heart
with a tender touch?
At count time give both name and unit number.
Within the silence
fresh approach discovered,
even as outside
hot desert winds are stirring—
some other place they'd rather be.
~~
Artwork by Jerome Sloan
Post Tags:
meditation
,
prison program
,
Snake River