Friday
Mandala Projects, Video, Audio, Photos
Runaway Meditation Retreat
by Taz Tagore
This year, the New York City-based Reciprocity Foundation pioneered a Buddhist retreat program for homeless, foster care and runaway youth. Over 20 youth attended 3-day retreats (at Dharma Drum retreat center) in upstate New York. The youth reveled in the beauty of the pristine forests, the lake and the silence while practicing yoga and meditation, eating vegetarian meals and studying Buddhist principles. This video was co-created by homeless youth to capture their inner transformation.
[kml_flashembed movie="http://www.youtube.com/v/-ENCg88cPj0" width="425" height="350" wmode="transparent" /]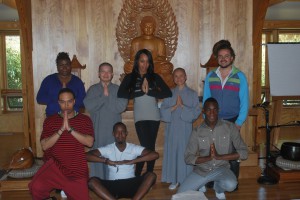 Taz Tagore is the co-founder of the Reciprocity Foundation and a Buddhist writer and teacher. She has contributed to the Shambhala Times, Shambhala SunSpace and spirituality websites such as Beliefnet.com, Intent.com, the Interdependence Project and Mindful.org. Taz has spent nearly 20 years volunteering at youth shelters and working with homeless youth in the U.S., Canada and India. She has been featured on countless television programs and newspaper articles for her work with homeless youth.
To learn more about the Reciprocity Foundation, click here. To view more videos about Reciprocity's holistic programs for homeless youth, click here. To donate $1, $5, $10 to send a homeless youth on retreat, click here.
Post Tags:
meditation
,
retreat
,
Video