Thursday
Community Articles, Video, Audio, Photos
A Garland of Videos about Shambhala
In May of 1975, I read Born in Tibet and Cutting Through Spiritual Materialism as fast as I could and then moved to Boulder, Colorado in August, as fast as I could. I figured that being there "in person" in Boulder, where Chogyam Trungpa Rinpoche was teaching, was the only way to go. That decision underscores the potency of Trungpa Rinpoche's books. It also suggests just how footloose we were in the 1970's. But it also says something about the technology and media landscape at that time.  Books were the dominant medium for connecting with the teachings.
Thirty five years later… our media landscape has changed: the Shambhala Day roll-call happens over the Internet, Shambhala centers have fan pages on FaceBook and The Dot has been replaced by the Shambhala Times (a marvelous WordPress blog that lets us embed audio-visual materials easily). New students and old encounter the Three Jewels in a technologically mediated landscape. This technology landscape affects our daily lives individually and collectively.  This article is the first in what I hope will be a series in the Shambhala Times about this part of the Shambhala landscape: Shambhalians are using social technologies these days. By social technologies I mean Facebook, Twitter, YouTube, Skype, telephone bridges, websites, email lists, and on and on. I'm hoping to tour this landscape and look at some of its features (not to say that one particular place or view is the best, but to look at how they're connected). You might be as surprised as I am by some of the good ways we are putting these technologies to use. In this article I'll point to some examples of video on the web.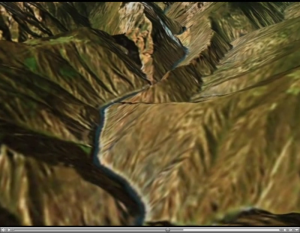 The Buddha. This video using Google Earth to show the terrain over which he traveled makes my heart pound, even though we all know that Trungpa Rinpoche did in fact make it over the Himalayas to India, and even though I already read many of the words from the sound track in Born in Tibet many years ago. Although reading the Vidyadhara's words in Born in Tibet is moving, it's hard to really grasp the enormity of the trek.  Having the help of Google Earth just makes it more vivid.  See it on The Chronicles Project.  And, by the way, you can help fund the next cycle of production.
The Dharma. It is so somehow ironic and deeply satisfying to hear Pema Chodron talk about "this lousy world" in this wonderful little video on YouTube. Her talk just makes you ache to hear more teachings.[kml_flashembed movie="http://www.youtube.com/v/buTrsK_ZkvA" width="425" height="350" wmode="transparent" /]
And indeed you can sign up right away for the Sangha Retreat at Shambhala Mountain Center with Acharyas Lobel and Chodron.  Registration is just one click away.
Recently I read Dragon Thunder: My Life with Chogyam Trungpa by Diana J. Mukpo and Carolyn Rose Gimian.  I have to confess that I skimmed the parts about dressage.  Somehow I didn't get it. I make up for it now by having a great big lump in my throat watching Lady Diana Mukpo ride Pascal at the Grand Prix Freestyle, Wellington Classic Dressage Spring Challenge, 13 February 2010 :
[kml_flashembed movie="http://www.youtube.com/v/KJMscMPYo44" width="425" height="350" wmode="transparent" /]
Many years ago there was a Buddhist-Christian conference at Naropa University and Brother David Steindl-Rast was a featured speaker. It was one of those fabulous Naropa talk fests presided over by the truly great and good that was somehow out of my reach at the time. How cool is it to see him on a page about "gratitude" on Davee Evans' Labeling thoughts wiki.[kml_flashembed movie="http://www.youtube.com/v/v6BVvGQS-wc" width="425" height="350" wmode="transparent" /]
I think his talk interesting because he talks about "the Buddhists" as just one of the many religions that have something to say about gratitude in our vast social landscape. And toward the end he suggests how Christians might appreciate the many skillful means that "the Buddhists" have to offer the world. But back to the video and the context.  The wiki page on gratitude illustrates how video can easily be "quoted" or repurposed on the web: a video on YouTube can be displayed in another context. (And the marvelous indexing job on the wiki tells us that the Vidyadhara used the term "gratitude" in the 1979 Seminary transcripts, but he used "appreciation" more frequently, in the 1974, 1979, 1984, and 1985 transcripts).
The Sangha. In this video, Khandro Rinpoche goes to the heart of administration as path. You have probably heard the message that it's helpful to make friends with the sangha, but it's worth hearing it again.
[kml_flashembed movie="http://video.google.com/googleplayer.swf?docid=7248965622078417393" width="400" height="326" wmode="transparent" /]
Why is it that hearing it from Khandro Rinpoche will help you remember the message better than just hearing a one sentence summary in this blog post? There's something about video that's memorable, that trumps text. That can be helpful but it can also be problematic.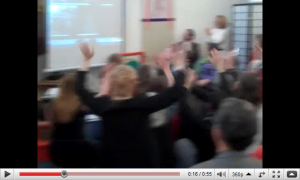 Finally, here's evidence that the web-based alternative to the old telephone roll call was wildly successful in Portland:
One thing that's interesting about social technologies such as videos is that they can enhance our feeling of being together or they can exaggerate our feeling of being left out. I couldn't argue that the Shambhala Day roll call and announcement by the Sakyong didn't have a few technical glitches. As the email exchanges on Monday morning showed, some centers had a really discouraging experience because they couldn't hear or see what was going on. As Dan Magorian from the Baltimore Shambhala Center wrote:
I don't know about other centers, but Baltimore had probably 50-75% packet loss and buffering issues with the Adobe Connect web client where it would lag and then suddenly spit them back rapidfire. Very little of the audio was intelligible, let alone the video.
Notice all the new vocabulary that comes with all this wonderful new technology. Probably less than 1% of our global community knows what packet loss is or why it might even make President Reoch talk too fast. I'm not going to try to talk about the mechanics of all the technology behind the scenes.  I'm going to try to write about how Shambhalians are using technology for both formal and informal purposes.  And I'm hoping to talk about it without too much technical vocabulary and from the perspective of how it's experienced rather than how it's produced.  We experience technology in Shambhala on our own path, in our centers, and on our desktops. And that's worth noticing and appreciating.
For a review of the online broadcast, read: Shambhala Day Online – A Report
Post Tags:
communications and technology
,
Video