Wednesday
Mandala Projects
Shambhala Day Online – A Report

From the Shambhala Online Team
This year's Shambhala Day was an experiment in online visual broadcasting, using Shambhala Online. We did a lot of international testing in advance of the day, and we have heard from centres and groups about their experience during the actual broadcast.
Thanks to everyone who gave us feedback, in particular to people on the sangha-wired e-community. We really appreciate hearing from you and knowing about your experience — the good and the not so good! Your feedback, along with our own careful evaluation, has given us a clear idea of what worked and what didn't, and how to make significant improvements for next year.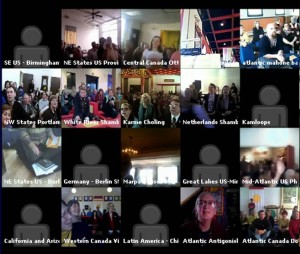 Despite all our advance efforts there were still some centres and groups who had problems with poor quality internet connections, and the phone hook-up (used by centres or groups who didn't have online access or who had not registered in time to use that) was very disappointing. We are going to be working on that for next year.
Thankfully, most of you reported clear audio and video online. People seemed genuinely thrilled to see faces from all over the world. Thank you to those centres and groups who were able to attend the rehearsal/test session the week before. This allowed us to help troubleshoot your local situation in advance of Shambhla Day. For those who were not able to attend, we hope the recommendations to enhance quality we sent out in the days leading up to the event were helpful. Next year, we will offer more opportunity for you to test your setup and equipment.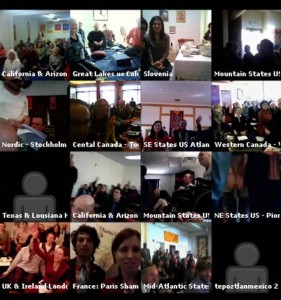 Until this event, Shambhala Online has never needed it's maximum number of connections available under its license. It is gratifying to know that so many centres and groups now have internet capability. We are sorry that a few of you were not able to access the online option. Because of this, we will ensure that all centres and groups, regardless of when they register, will have an online connection for next year.
The malfunction of the phone hook-up was regrettable and we take full responsibility for this. We will troubleshoot this area in great depth in order to offer a satisfactory two-way transmission next year for those centres or groups who do not have internet capability. We do strongly encourage you, however, to consider looking into the possibility of getting your centre or group online. Not only will that allow you to experience video at large community events such as Shambhala Day, but you would also be able to offer online courses and classes to your members, which would help to offset this new cost.
In conclusion, our commitment to you for next year's Shambhala Day is to:

* communicate earlier and more often about the registration process;
* ensure online connections for all centres and groups regardless of when they register;
* test, even more thoroughly, all our own broadcast equipment to ensure reliable service;
* if still required, determine a fail-safe phone hook-up system;
* provide greater support in advance of the event; training, equipment recommendations, clear instructions and guidelines for a better quality experience;
* provide more testing opportunities, or online"rehearsals" at times convenient for all time zones;
* if possible, provide live tech support during the event.
If you know of other ways we can better serve your needs, we look forward to hearing from you.
One final point we have come to understand; this new age of technology requires cooperation between the provider and the user. Those of you who did not have a successful online connection, are welcome to contact Heather directly to do an assessment specific to your location.
We look forward to working and celebrating with you again in the very near future.
Eve Rosenthal
Carolyn Mandelker
Heather Scott
Post Tags:
Shambhala Day
,
Shambhala Online