Tuesday
Community Articles
A Day of Service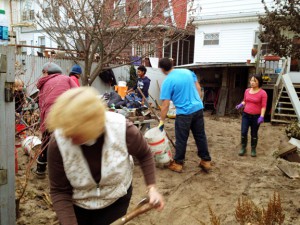 New York City sangha responds further to their neighbor's needs post hurricane Sandy
read the full article here
by Chelsea Allinger, New York City
There were three UPS trucks parked on the sidewalk, rapidly filling up with donations. Cars were double-parked, quickly loading up with supplies and people. Volunteers moved fast, urging onlookers to keep the walkways clear.
I stood on the edge of this sea of activity, reached into my bag, and pulled out a hastily scribbled sign: SHAMBHALA VOLUNTEERS. Almost as soon as I unfolded it, volunteers walked over, smiling. The day had begun.

More than 50 sangha members signed up to help with Hurricane Sandy relief on November 10th, although the scale of this Occupy Sandy distribution center made it impossible for all of us to find each other. Based out of the Church of St. Luke and St. Matthew in Clinton Hill, Brooklyn, hundreds of volunteers were processing truckloads of donations and preparing thousands of meals. Hundreds more were dispatched to about 20 different outposts in the neighborhoods Sandy hit hardest. Members of our sangha were drawn into all of these efforts.
Reading stories shared afterward, it becomes clear that despite the variety of experiences — from staffing the coat check to serving meals in the Rockaways — we were joined together in one common story. It seems to be a story about the powerful coexistence of suffering and compassion, cast in staggeringly sharp relief. On that day, hearts broken and bursting, far away from any shrine room or teacher's chair, core teachings about the world we live in, and our role in it, have rarely felt more immediate and direct.
The experiences and images shared in the following story paint a picture of just one day. May it be the first of many, many more. And may they be of benefit.
For a full account from Rosario Fernandez, Christy Rupp, Todd Amodeo, Laura Heldt, Emilie Laperriere, Meghan Sultana, Sam Dulberg, Jason Sebastian Russo, and Laura Bilodeau, please click here.
Post Tags:
hurricane
,
Hurricane Sandy
,
New York City
,
response