Friday
Featured Stories
Director of Shambhala Online, to Leave
Heather Scott, Director of Shambhala Online, is leaving her position after 5 years. In this Shambhala Times interview, we learn a little more about the turning point of her decision to go back to school for leadership, thereby taking the Shambhala teachings out into the world.
"I feel called to go out into the world to serve," Heather says. But it's not just that, it's about seeing what's actually happening in the world, getting to know what's going on. Seeking out ways to be of benefit beyond the Shambhala community and living the teachings that Sakyong Mipham Rinpoche is emphasizing now, that is her inspiration.

For the last six years, Heather has experienced a concentrated meditation path and practice, coupled with the experience of working for Shambhala. She has been immersed in the teachings in so many ways, explaining that working for Shambhala gives one a direct experience of what is being practiced. "At all levels of our mandala," she exclaims, "it's so rich what people are doing." Shambhala's greatest asset, Heather says, is the people. "We are the largest asset that we have: the community itself."
Heather Scott has gone back to school. She's pursuing an online Masters in Transformative Leadership at the California Institute of Integral Studies. "The same longing that I see when people are looking for the teachings and reaching out to connect online, I see with the school group as well."
Why transformative leadership? "People are longing to connect. The field of leadership is a moving target and is always evolving," Heather responds. One of the things she and her classmates sit with in their, you guessed it – online study group, is the question: what is leadership? There's so much research in the field on this, but it turns out, "we can't answer it!"
Transformative leadership is about looking at ourselves as individuals, as human beings. It studies how we relate, what our ways of being and doing are, how we show up, and how we explore our lives. Why leave a Shambhala job and go back to school in a field that doesn't lead to an explicit job afterwards?
"If I get too comfy, then I don't think I am contributing as fully as I can. I need to feel the edge a little bit!" It is such an uncomfortable edge to show up in habitual ways, we think we're being genuine and authentic, but there's always more.
But what is she leaving behind?
Acharya Eve Rosenthal initiated Shambhala Online, as part of her inspiration as an IT professor in Nova Scotia. She also knew that the technology was evolving to such a point that live interactive mult-point dharma teachings could begin to happen. (For more information about the history of Shambhala Online, read a previous article on the Shambhala Times by clicking here.) At the beginning, Eve was looking for a technical assistant for a 10 week contract position and Heather said, "I can help you with that, 10 weeks is fine." There was a huge learning curve but then as soon as Shambhala Online started connecting people around the world, Heather says she was hooked. "It was so amazing. So many people wanted to connect with the teachings and teachers. So I stayed on and continued to help with getting things up and running." The Director position naturally evolved out of that.
Having created the Director position, Heather says the job is about the relationships that have to be created and maintained. It's about working with everybody from volunteers to teachers who deliver the talks to the online users. Heather's path towards leadership began because someone needed to drive this new organization. "Someone needed to lead it, so I took on the role. I just found myself 'Directing'." She says she was supported and empowered in this by Acharya Rosenthal and Shambhala International's Executive Director, Carolyn Mandelker.
These days, Shambhala Online is humming along with the help of program coordinator Barbara Zielinski and head moderator, Laura Greer, as well as half a dozen dedicated volunteers. There are always improvements that can be made to the technology, but they are well placed. Teachers want to teach, and a year's schedule now fills up in a matter of days. And, most importantly, people want to connect this way and receive the teachings. "They really want the teachings," Heather emphasizes.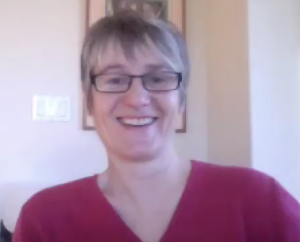 Finally, this is the direction that the Sakyong is going, and this is what has inspired Heather's transition away from working for Shambhala Online. She explains: "I was so insprired by the Grace Cathedral talk in San Francisco (see a portion of this transcription online here). As Shambhala warriors, it may be that the transition for us in creating enlightened society is about us stepping out into the world. What the Sakyong is doing is what I want to do. How is my warrior face reflected back? How can I hold my mind and remember the teachings?"
Heather's working metaphor for her path of leadership is about learning to reside in the eye of the storm. "The challenge," she says, "is being the eye of the storm: centered, calm, awake and aware with chaos spinning around. The greatest point of power is the center, at the heart of it all. In Shambhala terms, these are the teachings on equanimity." We have such incredible teachings available to us, in both the Shambhala and Buddhist lineages. "They are brilliant for this time," Heather says, "and with the Sakyong modeling that, its time for me to step out and explore that world."
~~
For more information about Shambhala Online, visit their website: www.shambhalaonline.org
For more information about the Director of Shambhala Online position, email: [email protected]
Post Tags:
interview
,
leadership
,
Sakyong Mipham
,
Shambhala Online