Sunday
Community Articles
Children's Day: Amsterdam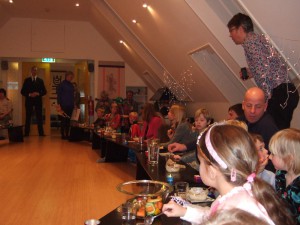 by Liesbeth Scholten
The Children's Day celebration in the Netherlands was a joyful community event in the Amsterdam center, where parents, children and teenagers were happy to meet again, catch up and enjoy the festivities together. To start the ceremony, the children, dressed as kings and queens came into the shrine room in procession, to Handel's Water Music (Menuett I + II). Each child brought a little light and placed it on the special Children's Day shrine. In the gift ceremony the children gave money for the Gesar Fund's Family to Family project. The story of Iliana was told, accompanied by a shadow puppet show, with beautiful handmade figures behind an improvised screen. After the ceremony there was time to play, run, talk, eat and drink. We closed the celebration with a festive dinner and musical performances by the children.
Since the Amsterdam center hosted Children's Day for families from other Dutch centers as well, there was not much space for other sangha members – those without children – from Amsterdam to join the celebration and see how the center had become a palace through all the special decorations. So on special request, we kept the Children's Day shrine for several days after the actual celebration, so that other members and visitors could enjoy the colorful and magical display of little lights, animal figurines, Shambhala offerings and green branches on the shrine covered in white satin. We got many positive reactions. Several people commented that seeing the shrine made them feel happy and the whole center had a warm and welcoming atmosphere with the children's drawings on the wall and the few playful decorations we had left.
Click on the photos to view as a slideshow.

A Shambhala family feeling – thanks to all the children among us.
Post Tags:
Amsterdam
,
Children's Day
,
Europe
,
Netherlands