Monday
Scene and Heard
Shambhala Day Party in St. Johnsbury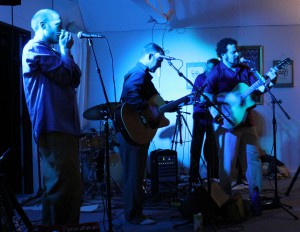 photos by Michael Taney
Celebrating Shambhala Day with a live band, the St. Johnsbury Shambhala Center in northern Vermont had a rousing party this past weekend. Attended by local sangha, and a group of staff from nearby Karme Choling, the assembly enjoyed the tunes of a local band called Tritium Well. Tritium Well includes local sangha member Linda Warnaar on drums and vocals.
As Michael Taney described it, the band does a lot of very danceable roots music – rock and roll, reggae, latin beats, including covers and original material. Click here to learn more about them.
The event was organized by Madge Rossinoff with help from a number of folks at the Center.
The "soul train" pictures were taken while they streamed the Youtube video "Poppa Was a Rolling Stone" over the sound system, a video that Amanda Hester had posted a link to with the comment "this is what your Shambhala New Year party should look like". St. Johnsbury took the advice rather literally.
Post Tags:
dancing
,
Shambhala Day
,
Shambhala Day party
,
St. Johnsbury