Thursday
Scene and Heard
Dignity – A Concert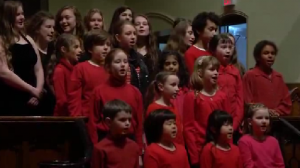 The Shambhala School offers a "Dignity Concert"
Founded in 1993, the Shambhala School in Halifax, Nova Scotia offers an enriched curriculum in Grades Pre-Primary through 12. The school was founded by parents and teachers to provide a high quality education mixed with the experience of genuine delight in learning. As a model of a sustainable, compassionate and aware society, it was intentionally envisioned as an inclusive school of racial, cultural and religious diversity.

This past week, the Shambhala School offered the first Dignity Concert. This marked a watershed for the Shambhala School. As Director Robyn Traill shares, "We caught the attention of a citywide audience with a cultural offering of world-class quality. We moved our fundraising focus to a new sector of supporters beyond our own small inner circle of parents. The music itself was a magic chemistry between artists who did not normally play together but generated spontaneous joy for us on the spot. People who experienced the performance felt uplifted, healed, energized, moved. What a great thing to put out into the world!"

To view clips from the concert, please click here to watch the video.
Post Tags:
concert
,
music
,
Shambhala School