Friday
Dharma Teachings
So Much is at Stake, 2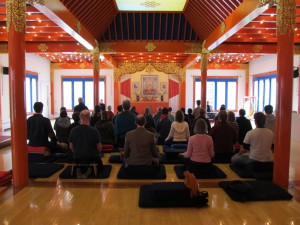 Maintaining the Heart of Practice
Part 2
by Acharya William McKeever
photos by Jessica Bizub and Patricia Hayward
Like a clay bowl tossed into the air, with no one to catch it, this life of ours is fleeting, unbelievably short. And as I have so vividly learned, while the scope of one's life might be relatively long, one cannot count on having all one's capabilities unimpaired. When we realize this, we are willing, indeed hungry, to apply ourselves to rigorous spiritual training, while we can. The point of contemplating the Four Reminders is to motivate us to practice the dharma. And the teachings on the practice of Shambhala meditation give us a direct path to making our meditation more personal and immediate than perhaps it has been in the past.

Acharya Richard John has done an excellent job exploring with us what the spiritual path is and what it is not — how a genuine spiritual path works at dismantling ego. It focuses more on what to let go of rather than what to acquire. So at this point in our practice we can talk about how we have at least glimpsed this heart of goodness. Through the hours spent on the cushion and the time spent contemplating the teaching, and especially with our initial experiences with meditation, we begin to develop a sense of this unconditional friendship with ourselves and our world. Now we have a further teaching on how to make actual connection to our practice with the deceptively simple Shambhala meditation. Opening to the feeling of the present moment makes practice valid, direct, personal, workable. We find ourselves genuinely on the path.
Beyond ego's habitual likes and dislikes, this nonconceptual love affair dawns. 'Unconditional friendship' is perhaps the best metaphor for meditation practice. And the practice of meditation that begins with opening to our feeling of this present moment gives us an ever-present doorway to immediately enter the flow of practice. That is the remarkable thing about starting with feeling: we always are feeling something. If we simply identify what that feeling of the present moment is, our practice becomes grounded and immediate.
In this way we extend unconditional friendship to ourselves, and from there it expands outward to encompass our entire world. Like with a very close, lifelong friend, where your friendship can accommodate whatever arises, the practice of meditation is the unequaled means of cultivating such all-accommodating friendship with ourselves. This feels good, wholesome, like holding golden Buddha in your hands, and in your heart. This is the dawning of basic goodness. And the golden light of this dawning joins us with all other beings.
Yet we need to be realistic here. Great sages of the past, such as Gampopa, have warned us that even if we feel we have clearly glimpsed this golden heart of practice, we should be aware that samsara, the world of our habitual patterns, is notorious for being without beginning or end. In other words, as vivid as this dathun experience feels right now, the power of our habitual patterns is so strong that in a few weeks it can be all but forgotten — really — as if it never happened.
It is vital that we contemplate and develop personal insight to see what happens to us over time, when we do practice regularly, so that we know for ourselves what its value is. And it is likewise important to know what happens when we do practice and when we don't. Finding out for yourself is the only way, in the long run.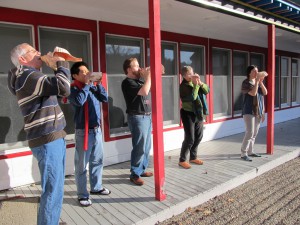 The Vidyadhara, Chogyam Trungpa Rinpoche said what happens when we don't practice: "It is not bad or wicked that we don't practice. No one is watching in any case. If we don't practice, our path just stops."
If we don't practice, our path just stops. We need to find out for ourselves if this is true, or how it is true for us.
When I finished my first dathun here at Karme Choling in 1973, Trungpa Rinpoche gave a talk on the last day. I'll never forget it. Here we felt we had just completed something truly extraordinary and brave, but he said, "I'm sorry to tell you, but you may have been tricked. You might think you just completed the dathun, but the real dathun starts tomorrow when you go home. All we did over this last month was slow your minds down a bit, and stretched the gap a bit. But this dathun practice doesn't end here, it is just beginning."
So your real dathun starts next week; this was just a long orientation session!
Post Tags:
Acharya Bill Mckeever
,
Chogyam Trungpa
,
dathün
,
Dharma Teachings
,
Karme Choling