Saturday
Featured Stories
The Wonder of Bishop Andrus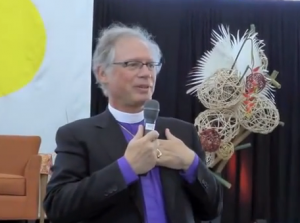 by Larry Barnett
Shambhala Communications Director
In a presentation filled with wit, heart and wisdom, California Episcopal Bishop Marc Andrus held his audience in rapt attention for over an hour as he moved through topics as diverse as contemporary physics, holocaust studies, and the meaning of "wonder." Speaking at the recent Shambhala sponsored "Creating Enlightened Society" event in the San Francisco Bay Area's Craneway Pavillion, and citing historical and literary references almost too numerous to catalogue, Bishop Andrus opted to forego using the stage, and instead spoke from the floor, microphone in hand, pacing left and right in the comfortable style of a community organizer working with his team members.

Though wide-ranging, his presentation was in clear support of the hypothesis that all and everything is an expression of basic goodness, and he returned to that topic time and again. The "wonder" he described, an overwhelming emotional sense of connection that is at once life-affirming and life-changing, he connected to the childhood discovery of a paramecium in a drop of pond-water, recognition of the moment of the creation of our universe of time and space, and the sudden heart-felt connection between strangers that they are actually one and the same. Using the language of modern physics, he described the quantum reality of entanglement, the property of instantaneous connection between particles separated by vast distance, and how it relates to our experience of wonder.
In telling the moving story of a small village of 5,000 people in France in which its Huguenot population saved an equal number of Jews during World War II, he illustrated his point that this quality of entanglement connects all living things to one another and is the basis of compassion. Casting back 75 years to the work of analyst Carl Jung while also referencing contemporary research indicating consciousness may be a "non-local" phenomenon, Bishop Andrus suggested that our current age expresses an appreciation of complexity, a contemporary understanding of ancient, intuitive wisdom, which he called "most valid." Complexity, he noted, is a property of life itself, and it is increasingly complex. Yet, hewing back to the "initial condition," the beginning of time, space and matter, he suggested, is basic goodness itself, as is all that follows.
Bishop Andrus took his audience where he wanted to take them, an excursion through the universe of the human heart and society. Though a Bishop in the Episcopal Church, he never mentioned the word God, and never had to. Remarkably, the Bishop had constructed a presentation in perfect concordance with a question asked of Sakyong Mipham Rinpoche the night before about the difference between basic goodness and God. The Sakyong, not skipping a beat, replied, "one less 'o'", an answer one suspects, with which the Bishop would agree.
Post Tags:
Bishop Andrus
,
Creating Enlightened Society
,
Video