Monday
Sakyong and Family
The Great Reversal
Putting others first—it's the great switch that changes everything. It cuts samsara at the root and plants the seed of enlightenment. Sakyong Mipham here describes how to be a bodhisattva.
The Mahayana Buddhist tradition is defined by the supreme thought of bodhichitta, the intention to bring all sentient beings to enlightenment. Those who vow to achieve enlightenment for the benefit of others are known as bodhisattvas. Their path is based on the six transcendent perfections, the paramitas.

Paramita is a Sanskrit word meaning "arriving at the other shore." On the bodhisattva path, one's view, practice, and action are based on simultaneously benefitting self and other. The bodhisattva is likened to a ferry operator whose sole purpose is to take passengers across the water. Yet while taking others to the other shore, the ferry operator is crossing, too.
The paramitas are generosity, discipline, patience, exertion, meditation, and prajna — wisdom or "best knowledge." They are the supreme way to attain merit, giving one the fuel and strength to take all beings across the waters.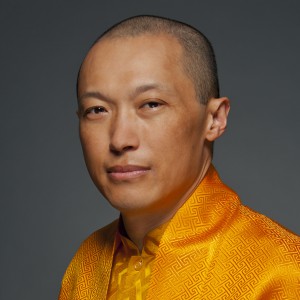 Only with prajna are the other paramitas transcendent. Without prajna they are simply ordinary generosity, discipline, patience, exertion, and meditation. The paramita of prajna is like the ferry operator keeping an eye on the other shore, which we could equate with great emptiness and great wisdom. Prajna always sees the purpose of the journey. Therefore, prajna keeps the boat from going adrift. Generosity, discipline, patience, exertion, and meditation are like the oars of the boat.
Sakyong Mipham Rinpoche's new book is The Shambhala Principle: Discovering Humanity's Hidden Treasure, published by Harmony.
~~
Excerpted from the July 2013 Shambhala Sun magazine. To see what else is in this issue, click here.
Post Tags:
bodhisattva
,
Dharma Teachings
,
Sakyong Mipham
,
Sakyong's Monthly Teaching