Friday
Community Articles, Uncategorized
The Boulder Flood: Notes from High Ground
As flooding continues in Boulder Valley, Jennifer Holder offers tidbits from a hillside.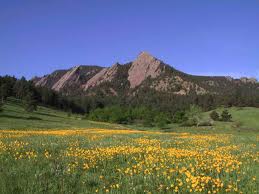 Just as I sit at my computer to write this, the sun peeks through rainclouds for the second time in four days. It quickly fades, but encourages me on to write this little report from high ground.
The news can cover the road closures, emergency evacuations, and public health advisories. If this is what you would like to know about, here are some good links:
The Daily Camera
Boulder Valley Emergency Status

What I can offer is a link with the love we have for this place and the heartbreak that comes from witnessing its literal landslide into a disaster zone. In the course of growing up here and coming back to settle here I have walked or driven every street. From the settled walkways and rolling hills of South Boulder, to the revamped Old West downtown, to the eclectic northern neighborhoods—this town has hosted so many memorable moments in my life. Like most of you reading this, I have walked with friends along the beautiful paths, waded and even dunked in the usually gentle flow of Boulder Creek. The experience of being beside the creek is spiritually evocative: the rare smell of moisture, the sound of water running over rocks, the laughter and chatter of happy residents, the stunning view of the red Flatirons rising so high and so near.
It is a scene I think we all recall, from visits before or after retreats at Shambhala Mountain Center, during pilgrimages to this historic site for Shambhala—all while visiting old friends or getting to know new ones. With the Boulder Shambhala Center so near, we've picnicked there during lunch breaks for levels, or even fled there to regain equanimity in our stirred-up minds. Whatever memories you might bring to the place, I am sure it is an image of tranquility, of refuge and a quieting beauty.
This is why it is so hard for me to reconcile the news reports from the last two days. I try to imagine how high water running 5,000 cubic feet per second is. How high is that if measured on a cottonwood tree? What streets would that engulf? What about that beautiful home on the creek's edge that houses so many of my childhood memories?
As I was going to bed last night around midnight, an emergency evacuation was conducted alongside the creek. Residents to the north were instructed to flee at least to Spruce Street, which is where the Shambhala Center is. Ah, I thought. At least that street is considered a refuge, which indicates that the water has not gone that far. But Pearl Street's not considered safe? The happy mecca of Boulder shopping, dining, and hanging out? The place of people watching, where the flowers are planted to rotate with the season so beautifully?
Reports are that there is a lot of debris everywhere. It's blocking roadways and making emergency response difficult. They say more than 70 roads are closed, and I wonder what percentage of the city that is. Three of my friends are stranded. Over the phone, they told me horror stories of trying to make it to their homes, with endless detours, encountering fallen branches and mud piles, never knowing what was (or wasn't) under the "puddle" they were plowing through. The road that collapsed is on my daily commute to work, and now the world is watching the rescue effort video on CNN and even the BBC.
Since they have closed the city and told everyone not to drive, I feel better knowing people won't attempt to journey. They are saying that in floods more people die or are injured in their cars than at home. It's hard to say whether we had enough warning to stock up on provisions. I recall those innocent first two days of rain, when the weather reports only predicted one more day of it ahead. At first, my biggest worry was leaving windows open. Then it was getting to work. And when work closed and I bunkered down high on my hillside, my worries turn to others.
To people around the mandala, keeping an ear on reports from here, the waiting must be tough. But to be so close and so unable to help is pretty hard, especially when the emergency lasts for days with no real prediction of reprieve. There is no easy way to get in and out of Boulder; they have closed US-36 and all the side roads out seem to also be closed at some intersection or another. Other towns are faring just as badly: Lyons was a complete island for days and they just closed I-25, which was Longmont's only route out. Last night, evacuations spread to neighborhoods in Lafayette and Louisville. So many friends, dharma brothers and sisters, scattered all over the front range. When this is over, stories will pour forth in place of the rain. Meanwhile, I sit waiting for loved ones to respond to texts, imagining them busy pumping out basements or comforting their children with oatmeal.
I texted this song to a friend this morning: "Rain, rain, go away. Come again some distant day." This little childhood ditty is a refrain in my mind and also a prayer. Dearest Shambhala mandala, from your high or dry places on earth, join me in Tonglen practice for the people and landscape of the front range of the Rocky Mountains. This challenge is far from over.
Post Tags:
Boulder
,
floods
,
news
,
reflection