Tuesday
Shambhala News Service
The Passing of Shibata Sensei XX
Onyumishi Kanjuro Shibata XX passed away peacefully yesterday at the age of 92 in Boulder. His wife Carolyn was with him at their home. Shibata Sensei was the 20th generation master bowmaker and archer and 3rd generation bowmaker to the Emperor of Japan (retired). He has been a master teacher of Kyudo to members of the Shambhala community for over 30 years.
The Sakyong, Jamgon Mipham Rinpoche, was immediately informed and will conduct practices at the shrine of Zenko Iba in Boulder today.
Shibata Sensei's daughter, Hatsue, and granddaughter are in Boulder and will be joined by family. Please include the Shibata Sensei, his wife and family members as well as all Kyudo students and friends in your hearts and practice at this time.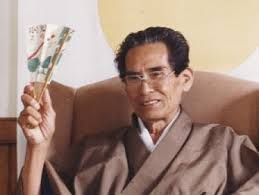 Those wishing to engage in formal practice may chant The Heart Sutra, holding Sensei in their hearts. If you wish, you may recite the mantra 108 times before concluding the recitation of the sutra. More information with details of ceremonies will follow.
Post Tags:
Shambhala News Service