Friday
Sakyong and Family, Shambhala News Service
Sakyong Offers Health and Healing Puja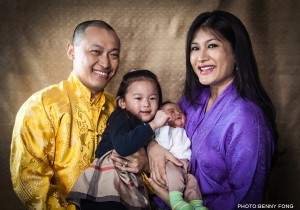 The Sakyong, Jamgon Mipham Rinpoche is offering a three-day puja, or practice intensive, 5 – 7 December in Boulder, Colorado, to increase health and dispel obstacles to well-being in the Shambhala community. The Shambhala community is invited to practice simultaneously with the Kongma Sakyong, both locally in Boulder and around the world, 5 – 7 December, with other members or in our own homes. The Sakyong asks that we do our usual daily practice with the added intention of purifying obstacles. He also recommends doing the protector chants at the end of our practice session.
To help sponsor this puja for someone who is ill, click here.
Practice details
This empowerment is a special healing blessing that was specifically requested by the Sakyong's mother, Lady Kunchok Palden, for her own health and the health of the Shambhala community. It is usually given to practitioners to overcome or protect against specific obstacles and illnesses that might interfere with one's practice on the path.
The Sakyong, Lama Pema Gyaltsen, and Lama Gyurme Dorje will begin the retreat with two days of Medicine Buddha practice. Medicine Buddha is one of the main deity practices associated with healing in the Tibetan tradition. Traditionally, one can request a teacher to do a Medicine Buddha practice for the benefit of a relative or friend in order to assist them in times of physical or mental illness. The Medicine Buddha section of the puja will happen on December 5th and 6th. On the final day of the puja, December 7th, the Sakyong will bestow a Hayagriva-Vajrapani-Garuda empowerment at Marpa House, in Boulder.
Those who wish to include themselves, a specific friend, or a relative in the Sakyong's personal practice during the puja may become a sponsor for the event. Participants will be included in the Medicine Buddha practice — their name, the illness they are facing, and photograph will be read aloud and presented to the Sakyong. They will receive the blessing and gathered merit of the retreat.
Sponsors and participants are invited to Marpa House on 7 December for the Abhisheka and concluding practices with the Kongma Sakyong. To become a sponsor for someone who is ill, we suggest a donation of $108 to the Sakyong Ladrang, but smaller amounts are welcome.
On the donation form, in the Comments aspirations and dedications field, please specify the following information:
– Health and Healing Puja
– Name of participant
– Type of sickness/obstacles
– Please send a thumbnail photo of the participant to: h[email protected]
Those who wish to participate as high-level donors may contact the Sakyong Ladrang for further details regarding more intensive integration into the three-day puja.
For questions or concerns about participation, please contact the Sakyong Ladrang at: [email protected]
Post Tags:
Sakyong Ladrang
,
Shambhala News Service