Sunday
Community Articles
Mind, Unfurling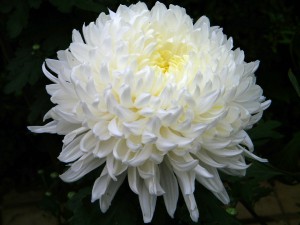 Sitting a Weekthun
by Leslie Gossett, Oakland, CA
I've started writing this three different times already. Each time, I write "The first thing that struck me was…" and what comes next keeps changing. So I don't actually remember the order in which things struck me. But when I recall the week between Christmas and New Year's, sitting the weekthun at the San Francisco Shambhala Center, the first thing that comes to mind is the image of Alice walking into the community room from the hallway with a single white chrysanthemum in her hand, and placing it very precisely in the ikebana arrangement behind the registration desk.
This is what I saw the moment I walked in the door on Thursday morning. And immediately I was full of the feeling of chrysanthemums. They hold their own magic for me because Trungpa Rinpoche places them in his poems as precisely as Alice did. But these particular chrysanthemums were the very same ones the children had offered to the King and Queen the Saturday before – on Children's Day. I remember the ancy and excited children lined up in the hallway waiting for the procession. We gave them each a single flower, and each flower became instantaneously a swirling baton, a pinwheel, a weapon, a magic wand – does everyone here know how that chrysanthemum tickled the nose of one very wiggly little girl while she told the King about Iliana meeting the Snow Lion?
Alice had placed these white chrysanthemums in all of the ikebana arrangements around the center. The one in the Shrine Room became a source of such delight for me throughout the week. The first day, I noticed this one golden blade – curled into space with the same elegance that Alice's silver hair curls into the space around her head. I drank in that golden blade – the red branches surrounding it, and especially those chrysanthemums bowing from below.
By mid-morning all I could feel was the piece of red bamboo that had been laid, or rather, pressed across the block of red clay holding up the arrangement. It was as if the whole thing would absolutely fly away if it weren't for the heaviness of that bamboo – harnessing heaven – tying everything so absolutely necessarily to earth! How much my mind longed to feel that very weight! And looking at this crucial display somehow weighted me there in my seat, on my zafu, in my body. I started to settle in.
I was appreciating the profound perfection of this arrangement. It was affecting me so very much.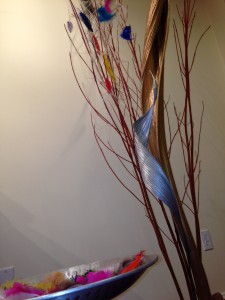 The next day I was horrified. Now one silver curling blade had appeared- or had I not noticed it before? I felt sort of panicked. Had I been that unaware – had it been there the whole time? And I hated its presence. It was the wrong color. Too cold. It curled the wrong way – intruded upon the perfection I'd found already. I wanted to scream. But instead I sat there. And sat there. I saw how it fit the space it was in. How unapologetic it was about showing up. My heart could appreciate its insistence. Okay, fine. I could handle this.
But by the afternoon- horror of horrors! There were cobwebs strung along the red branches. Seriously. The kind people use during Halloween to spread across their bushes and put fake plastic spiders in. How morbid. Now the whole thing felt like a disaster.
At the next break, I noticed two peacock feathers. Perfectly curving with the gold blade. Countering the effect of the strung out cobweb. It seemed so rich. So complex all the sudden. As busy as my mind.
The next morning I sat down on my cushion and lost my breath. The chrysanthemums were all gone. I hadn't realized how utterly attached to them I'd been. Now the bottom seemed so naked – with only the red bamboo providing any sort of sustenance. How badly I wanted a stalk of red bamboo to lay across my lap.
The fourth day, we went into noble silence. I was eager to see what would change. But Alice was not there. So, as if these small changes were in fact the voice of the arrangement, it did not speak that day. It remained still. At first, it felt frozen – hard and sharp. But as I sat, I saw how it was changing after all. The red branches became my arteries, rising from my legs and branching into my lungs. The golden blade my spine – mimicking even the lordotic lumbar curve. How staggering. Pushing into my bones. My skin. My roots. Down and down. During walking meditation, I felt as if I were being pulled to earth with such force I feared my foot would sink right into the floor. Under. And it flashed to me – heaven contains earth. And earth heaven.
In my life I've had one fifteen minute lesson on ikebana. Enough to make me look for heaven, earth, and man in every arrangement. Now now I felt it – how much earth can be in the reach of tendrils into space. And how much space in my roots.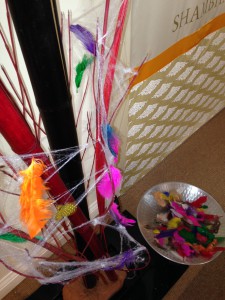 I ended up talking to Alice about her arrangements. Save for the chrysanthemum, I had not seen her make any of the alterations. She was an invisible hand creating this magic for me. And now she drew me in. Part of me wanted to remain in the mystery of never seeing her work. But she asked if I would help her string more webs around the arrangements during our break. And I did – feeling like she had blessed me with being part of this magic. We worked out the knots in the wad of webbing, and silently wrapped it around the red branches. I could appreciate what it meant to move and breathe. Nothing about this remotely stagnant.
She put out two big bowls of colorful feathers – the kind you can buy at a craft store – and showed me how one could choose any feather and place it or let it fall. And on the last day we invited everyone to do just that. To choose a feather and offer it to the arrangement. And soon there were these beautiful webs cradling all sorts of feathers. Each of us offering something of our experience to be held by precisely that which we had created together.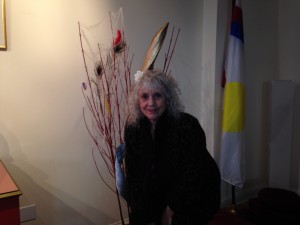 A web, a cradle of softness. Catching the light. Wound around and through everything. Where we could rest in the fact that nothing ever stays the same. Mums wilt and die. Things get sharper or more empty – or more full. We can never be certain what will be in front of us each morning as we sit on our cushion.
But what we do know is that we can rest there. Find heaven in earth and earth in heaven.
Engage in the magic of our lives. In the words of John Keats, "Beauty is truth, truth beauty,– that is all/ Ye know on earth, and all ye need to know."
Alice Tarkeshi is a long-time student of Shambhala, Dharma Teacher, and Ikebana master in San Francisco. Being around her is to be inundated in now-ness, delightfully playing with things as they are. I am so grateful for her influence and mentorship in my life.
~~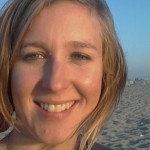 Leslie Gossett coordinates Shambhala Family and Children's Programs as well as Young Meditator Programs in Northern California. She also teaches mindfulness in public schools and yoga to children and adults in various contexts. Inspired to create a good human society that nurtures younger generations, she spends time engaged in doing just that. She also works with words and her own mind on a regular basis. You can read more of her work at wildemoongoldensun.blogspot.com.
Post Tags:
ikebana
,
Kalapa Ikebana
,
meditation
,
reflection
,
San Francisco
,
weekthun