Sunday
Community Articles
The Birch Tree as Basic Goodness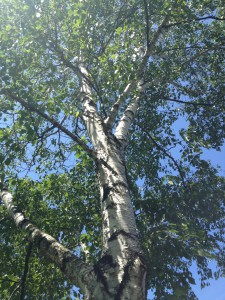 A Reflection
by Glenn Kleiman, Milwaukee, WI
I've always loved birch trees.
The stunning white bark. The delicate leaves. The graceful branches.
Once, while driving through New Hampshire, my wife and I saw a forest full of white birch. Such unforgettable beauty.
Here in Milwaukee, whenever we drove past homes with birch trees, I would slow down to admire them. "I wish we had one in our yard," I'd tell my wife.
I had birch tree envy.

Then, one day a few years ago, I looked outside our bedroom window and noticed, just a few feet away … a birch tree.
It was not a young tree. It was quite mature. My wife had not surprised me by planting it there.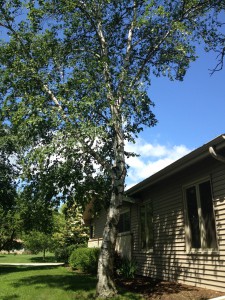 The tree had been there all along.
My first reaction was to laugh. The tree is 6 feet, 4 inches feet from our window. (I measured it for this article.) How had I not seen it? Why was I craving something I already had?
Because I didn't stop to notice. My wife and I were raising our two daughters. I was running my company. The "background" of life was all a blur.
Today, I see this story in a new context – as a parallel to the teachings on basic goodness.
We spend so much mental energy desiring what we think we need. Singer/songwriter Jackson Browne puts it this way in his song "Bright Baby Blues":
No matter where I am
I can't help feeling
I'm just a day away
From where I want to be
But as the Shambhala tradition teaches, what you "need" – basic goodness – you already have. It's just like the birch tree. You just have to stop and notice.
Believe me, I'm not pretending I've got it all figured out. Because once I realized that I did, indeed, own a birch tree – once it was part of "me" – I of course conducted a neurotic self-examination. Was the bark white enough? As white as the others I saw? And those leaves…some look torn at the edges. Is the tree healthy? (It's okay, you can laugh. I do.)
So, the journey down the path continues. I'm just glad I'm on it.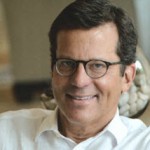 ~~
Glenn Kleiman is a member of the Shambhala Center of Milwaukee. Glenn was an Emmy and Peabody Award-winning broadcast journalist, then owned a digital marketing agency for 23 years. He's now teaching at Marquette University's Diederich College of Communication.
Post Tags:
basic goodness
,
reflection
,
weekthun