Tuesday
Scene and Heard
The Drala of Maidan, part 2
Reporting on the Ukrainian Revolution
Interviews from the Front
part 2

compiled by Ella Reznikova and Sarah Lipton
Ella is Ukrainian by birth, and Sarah has Ukrainian ancestry
We wonder why this Revolution is happening in Ukraine right now.
Shastri Maks Lan explains that the Czech Republic and Poland went through a similar process. "This war is against Soviet man in their pseudo capitalist form. With post-colonial, post soviet mentality. In the center of their mandala is Putin."
"Now we are having parallel societies," he continues. "We can also say that belonging to a particular governmental system as well as the historical and geographical situation all have an influence on our society. When a person enters this system, they get shaped so they became what the system wants them to be. If you remain honest, the system spits you out." Really, Maks says, there is not an easy answer how to change it because the value system is mostly very materialistic.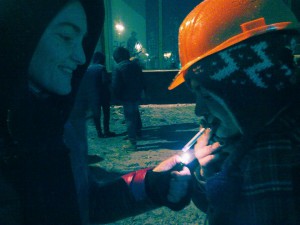 "If we (the part of population that wants honest rules 'as in Europe') get destroyed," Shastri Lan explains, "we will be put in prison or deported from our country. It will not be good." The country will be thrown back in time. "If we win, however, the process will still be very long because it is not easy to cultivate something real and sophisticated."
The consensus from our Shambhala brothers and sisters, however, is that right now people are experiencing a genuine and real moment. They are invoking their bravery and tender heart, doing something for others and learning the taste of their generosity. "If these feelings penetrate deeper than our mutual aggression, there is a big chance for something very good," Shastri Lan says.
"Maidan is like a light shining in the dark," says one Shambhala friend who doesn't want to be named. "It's like a microscope illuminating the problems of the society. Maidan puts the attention in the right place and makes it bigger and shows what is happening in our society. Maidan makes it clear what the big picture is for the people in my country. They don't make something better they just show what's happening."
"For me," shares Andriy, "it is completely drala. If we told the people in Maidan about the drala of Maidan and our country, they would realize it is completely about dignity. This revolution is about dignity because the people inside and outside of Maidan really care about each other. People have compassion. From a non-egoistic point of view the situation could be better, but not from the point of view of 'me'."
But what can we here in the West do to support you all, both Ella and Sarah wonder.
"The whole world is talking about us," says Ira, "but there is not much help. Everybody is afraid of Putin. It is -20 C, and people are here day and night and they are cheerful. Nobody wants blood, but if they start to kill us, our guys will fight back. We don't have police and judges to help us in this country – we are hostages of the criminals."
Ira continues, "I suggested to the leaders of Maidan to lead a shamatha-vipassana workshop for our warriors. He was very grateful and promised to get back to me." Ira says she sees an ocean of dralas. "I am afraid but I am not going to give up!"
Andriy requests that we practice for Ukraine. "If we receive some hello from you that you remember us that will really help. Practice for Ukraine and for the Ukrainian policemen. Perhaps we could practice as a community. In this case it will be helpful that you remember about us and that you remember we are having a difficult time." In addition, he says, "What would be really helpful would be sanctions from Europe or the US."
It was very moving for Ukrainians when all Polish TV channels simultaneously broadcast a video about Maidan Square saying, "Give your hand to Ukraine." Having watched the video numerous times, Sarah can vouch for the power of this gesture. Here it is:
"I would like to ask our Shambhala friends to please pray for us, so we can succeed," Ira asks.
Shastri Maks Lan responds to the question of how we as Shambhalians can help the situation in Ukraine by saying, "Only by your own geniuneness. I understood recently that the most important thing that Shambhala gave me is to distinguish what is good and important and real and what is false, and unnecessary, and sometimes harmful."
Shastri Lan continues saying, "When the situation is appropriate we are capable of telling people what is truly important. We know how to point out ordinary kindness that is so easy not to notice. We as Shambalians have the capacity to help people to notice what is real…and actually there are a lot of conversations about that in Maidan. Can you imagine that? There are so many such unbelievably good people around! Please come to attend the unavoidable celebration of our Victory!"
Our hearts are with you, Ukrainian brothers and sisters. Our love, our tears, our dreams, and our dignity. We stand by your side, even from far away we are with you.
~~
Send your wishes to Ukraine by leaving a comment here, visit their Facebook page, or find out how your community can support their activities.
Post Tags:
in the news
,
revolution
,
sangha
,
Ukraine
,
warriorship