Wednesday
Mandala Projects
Limiting the Barriers, part 2
A Report in Three Parts
From the Accessibility and Disability Working Group
article compiled by Stefan Carmien, Chair of Accessibility and Disability Working Group
We continue this series on the efforts of the Accessibility and Disability working Group to support the accessibility of the physical practice centers and electronic communications of the Shambhala sangha. In the last article we presented some of the history of accessibility in Vajradhatu/Shambhala and the work that Hamish McClaren did as the first chair of the Working group. Read part one by clicking here.

Brochures
We have put Hamish's prolific gathering of information into a set of brochures that have been posted into the existing network website (Hearing, Visual, Motoric) and are featured prominently in the new Shambhala Network site, to be released soon. The idea is that the first brochures, the 'introduction' could be widely disseminated, perhaps even printed and left out at centers to be picked up and read. The second group was designed for center administration, to help them get going with their efforts at accessibility. Finally the last set was provided more as a reference or yellow pages, a place to look up answers to questions or ideas for specific problems.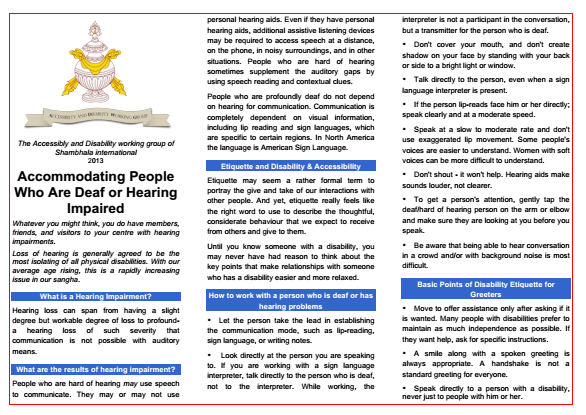 ……………………………………………………………………..
Land Sites
One of the inspirations for the Working Group was the effort to help Shambhala Mountain Center become more accessible, initially for those in wheelchairs (see image below of the executive committee directly experiencing the Shambhala Mountain Center in wheelchairs). Starting in 2001 there have been several reports on the needed work at Shambhala Mountain Center: Corrective actions check list December 2001; Report of Shambhala Mountain Center Accessibility Survey by Josie King-Robinson & Hamish Maclaren (May 2002); and a report on accessible rooms at Shambhala Mountain Center (Updated December 2011).
While the focus was on Shambhala Mountain Center, there were short reports on Karme Choling and Dorje Denma Ling. Previous to the recent efforts there were no analysis of either Dechen Choling (or Dorje Kyung Dzong, which also falls under this area of concern). The information was written up and presented but not much progress was made towards accessibility.
The problems at Shambhala Mountain Center are like the Shambhala Mountain Center space itself, broad and widely spread-out. Karme Choling has a different set of problems, because it's pretty much one building and with several levels and stairways, the solutions are more structural problem. We have been recently told that that there is an accessible bedroom and bathroom at the Ashoka Bhavan guesthouse. The only accessible bedroom in the building itself is currently being used for an office. This will require careful planning to accomplish.
The sense that came out of this history (see note 1 below) was that there were substantial efforts being made, at least for Shambhala Mountain Center, to document and produce suggestions for solving the accessibility problems at these centers. It must be stressed that this was not because of any resistance by the Shambhala Mountain Center administration to becoming accessible, more probably it was a matter of shifting priorities; as soon as the next in the ever-cascading financial emergency events happened all the careful plans were abandoned, we suspect. So, from this assumed dynamic we came up with a plan where we provided accessibility reports that were discrete and measurable, that had explicit items to accomplish (not just "make accessible to wheel chairs", but put wheelchair friendly paving tiles in 3 foot wide path from this building's door to that building's door).
Beyond this, the list of mediations would be time phased and prioritized in harmony with realistic resource availability expectations. We see these as 6-month sets of tasks. The Working Group would offer their help with fundraising and labour. These promised would be compiled into an agreement that could be checked with milestones and if a semi-annual milestone were missed the Working Group and center administration would address this problem – either moving the milestone out or obtaining more resources. The key here is small incremental committed progress.
Web Accessibility
We are working on bringing the Shambhala Network website to complete accessibility. Our near goal is certification to WCAG 2.0 (Web Content Accessibility Guidelines) A then AA levels. As a first step we have added alt text to all the graphics (90% done) and have done initial testing of the website with screen readers with acceptable (but not yet perfect) results. So if you are currently using a screen reader our shambhala.org site should provide a whole new dimension of connectivity to the teachings.
Accessible Liturgy
We are continuing the efforts of Hamish and the Nalanda Translation Committee in providing chants for sangha with visual deficiencies. There are whole sets of chants available on the web (click here) in both 16 and 20 pt fonts. For Dzongs and land centers there are pre-bundled sets that can be sent to printers and bound. Also we are in the process of developing instructions for taking the accessible chants and translating them to a braille printable file, we have made an example and will have available detailed DIY instructions on the website.
~~
Note 1: It must be noted that the only substantial direct conversations with center directors have been with Dechen Choling, and that the opinions expressed in these paragraphs were formed as a result of collecting verbal histories. Our plan has been to have local members of the Working Group do the same analysis as has been done at Dechen Choling, after it was successfully concluded. The final report and agreement for Dechen Choling is expected this summer.

~~
Stay tuned for the next installment, coming in May. If you have more questions or would like to contact the The Accessibility and Disability Working Group, please email them at: [email protected]
Post Tags:
accessibility
,
Accessibility and Disability Working Group
,
disability