Saturday
Mandala Projects
Available Abundance: Shambhala Videos
Did you Know?
Shambhala Centers and Groups can download dozens of Shambhala videos with translated captions
Hamish Maclaren is delighted to announce that nearly all the of closed captioned (subtitled) Shambhala teachings and the many other videos that are on the Shambhala YouTube channels are now available for download. Having spent the last two years on this project after his retirement from the The Accessibility and Disability Working Group, Hamish is now ready to hand the project along to others and find some new ways to serve the Shambhala community.
Having worked with Hamish on this huge project of captioning and collecting Shambhala videos, Sophie Leger shares, "I think Hamish is a real gentleman with a very big heart, always treating the people he worked with with tremendous kindness, respect and appreciation. And he is very generous with his time and energy!"
Anna Weinstein has also worked with Hamish on this project over the years. She shares, "Hamish has really pioneered and driven the translation and captioning of youtube videos for all of Shambhala, working basically full time on very extremely tedious and time-consuming details with great passion and cheerfulness."
This is one of those projects that remains somewhat invisible, but benefits so many. We all owe a debt of gratitude to Hamish for having worked so diligently on this project!
Accessing the Videos
Shambhala Centers and Groups are invited to show the videos offline at Open Houses, classes, events, etc. They can use as large a screen as is available, generally at a higher resolution than using YouTube online. Closed caption files in all the available languages can also be downloaded and played on the videos offline.
To download go to:
Copy.com: Shambhala Videos and Captions
Google Drive: Shambhala Videos and Captans. On the Google drive you need a Google Drive account to download more than one file at a time.
To play the video with captions:
Put the video and caption file of the language you want into a new folder.
Open with/use VLC media player to play the video
Don't have VLC? Click here.
Those links also include more the detailed guidelines "How to show videos with captions."
All the teaching videos have closed captions in English and Spanish and often several other languages. For example the most popular video "Learning to Meditate" has closed captions (subtitles) in eighteen languages.
What videos are available?

There are about 160 Shambhala videos on YouTube with captions/subtitles, about 80 of which are by or about the Sakyong. You can see what there is at those same links listed above by clicking on the list called "YouTube links to videos by the Vidyadhara, the Sakyong and other Shambhala teachers…". The list is arranged by author and subject. There is also an Excel spreadsheet (see image to the right), which can be searched by sorting the columns alphabetically: title, author, subject, category, translation, etc. and then scrolling down to what you want. To find a particular word or phrase use the Ctrl+F keys.
Note: There are many more videos on the Shambhala Services and the Shambhala Community channels and other Shambhala Centers' channels that don't yet have captions or translations that are not on these lists yet.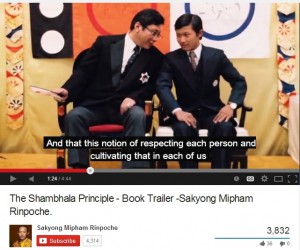 More details on the spreadsheets and how to use them.
If you are a older Shambhalian like myself (says Hamish) and were perhaps raised with stone tools, a pet dinosaur and an abacus, you might be a bit suspicious that digital spreadsheets are some sort of buddhist equivalent of "the work of the devil," so at those same links you can find the document "Video Spreadsheets and how to use them". Good luck!
We are looking for new people to take on the various tasks involved in this as Hamish Maclaren is now too busy with new projects and work to do this anymore. If you are interested, please contact Anna Weinstein.
Huge thanks to all the very hardworking translators who have made this possible! And huge thanks to Hamish Maclaren for all of his devotion and hard work!!
Post Tags:
accessibility
,
Accessibility and Disability Working Group
,
Captioning of Teaching Videos
,
community videos
,
videos