Saturday
Shambhala News Service
Shambhala Videos Widely Available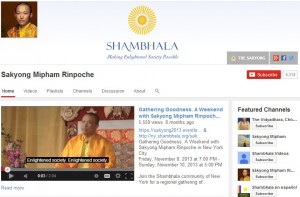 Did you Know?
Shambhala Centers and Groups can download dozens of Shambhala videos and translated captions
Hamish Maclaren is delighted to announce that nearly all the of closed captioned (subtitled) Shambhala teachings and the many other videos that are on the Shambhala YouTube channels are now available for download.
Accessing the Videos
Shambhala Centers and Groups are invited to show the videos offline at Open Houses, classes, events, etc. They can use as large a screen as is available, generally at a higher resolution than using YouTube online. Closed caption files in all the available languages can also be downloaded and played on the videos offline.
To download go to:
Copy.com: Shambhala Videos and Captions
Google Drive: Shambhala Videos and Captans. On the Google drive you need a Google Drive account to download more than one file at a time.
To play the video with captions:
Put the video and caption file of the language you want into a new folder.
Open with/use VLC media player to play the video
Don't have VLC? Click here.
Those links also include more the detailed guidelines "How to show videos with captions."
All the teaching videos have closed captions in English and Spanish and often several other languages. For example the most popular video "Learning to Meditate" has closed captions (subtitles) in eighteen languages.
See the full article, including a tribute to Hamish Maclaren by clicking here.
Post Tags:
accessibility
,
Accessibility and Disability Working Group
,
Captioning of Teaching Videos
,
community videos
,
videos