Friday
Dharma Teachings
Giving and Knowing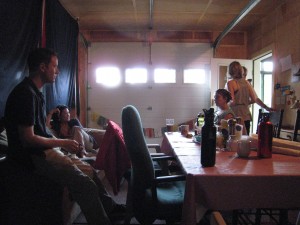 COLUMN: Dharma Teachings
Investigating the Practice of Generosity
by Acharya Michael Greenleaf, Barnet, VT
Generosity is our genes. The word comes from the root genus, meaning of good or noble birth. Noble, in turn, comes from the root gnosis — to know. Generosity speaks to the natural expression of an inherent goodness in human beings that both knows, and by its expression, is known.
This past summer, my wife and I hosted Sakyong Mipham Rinpoche and his family at our home in Vermont. The Sakyong (a Tibetan title meaning 'Earth Protector') is leading back-to-back retreats at Karme Choling, the meditation center in Barnet.
For the month-long visit, Jeanine and I move next door, into a small home about 100 feet from our house. We call this place the "cozy cottage" and it suits me just fine. For one thing, there is no cable TV. For another, the phone is relatively quiet, not really the case at the "big house."
Many people tell us how generous we are to offer our home to the teacher. Perhaps they're right, but to tell the truth, I don't find anything special about it. It just feels like the right thing to do. Also, as I mentioned, the cottage has its own charm. Aside from the moving, cleaning and rearranging, the hardships are minimal.
If I was cynical, I might wonder about my own motivation. Does a large well-appointed home suggest importance or self-importance? Is the intent in offering to let go, or to reap higher rewards in the form of attention, praise and the regard of others? Perhaps we give when we fail to appreciate what we have, in the same way that someone might offer food they came by easily but don't really have a taste for.
We might also offer because we cannot, out of guilt or for other reasons, relax with our own abundance. In this case, giving is unburdening, a kind of distraction from our own resourcefulness. Shifting responsibility to something or someone who can carry the weight.
With these questions unresolved, my wife and I rouse ourselves to face the reality of moving. There is always a moment in the move that hurts. (Doesn't moving rank just under dying as a stressor?) This is the moment when the idea of offering and letting go (which for me has always had a reassuringly spiritual appeal) meets the actuality of doing it.
Typically, a disagreement marks the moment. Madame (as she is known by many) asks me to help her "dress up" the garage. We will need the space, she says knowingly. The garage is big and very dusty. My heart sinks and I balk. "Why?" I ask exasperated, as if the rational for this little project will conflict with a logical underpinning for the whole effort. Struggling with the rightness of my wife's suggestion, the distinction between offering and abandoning becomes painfully clear. It is the beginning of a journey I take every time we vacate the house for our teacher.
After all the moving, cleaning and preparing there is a date. On such and such a day the teacher will arrive. By that time we are out, really gone from the house. Anything we need from the big house, we have it. This deadline creates a bit of stress. You can't really move your stuff when you feel like it, my wife explains patiently one morning — why don't you do it today?
This time, because of a renovation earlier in the year, and because the Sakyong's family was joining him, there are extra details. The process of leaving and setting up the house took longer than usual. The last 3 weeks before the arrival were particularly intense. Days began early with phone calls and emails, ending late with the preparation of a new punch list for the next day. During this time, we were supported by the efforts of a stellar group from the meditation center's summer volunteer program.
For these three weeks, feeling the fatigue and the time crunch, I didn't make it to my meditation cushion. Unaccustomed to a physical schedule of "doing," without time for contemplation, I found myself losing balance, subject to mood swings and strong emotions. At some point it dawned on me that the day would go better if, for a few moments each day, I just sat still to see how I was feeling.
Early in the morning, the sun shines in the east windows of the cozy cottage. Sitting quietly on the couch, sipping tea, I enjoy the moment before emails and phone calls. Inspiration as well as doubt and even depression rise and fall in my mind. I acknowledge whatever the thoughts are — neither congratulating nor condemning them. By giving these thoughts and emotions a moment of appreciation, their colorful roots are exposed. It is a naked moment with myself.
Just by relaxing for this few minutes, taking the time to acknowledge my internal landscape, the long days went better. There was more flow, appreciation, and wonder. In the same way that I wasn't able to hold on to my house, I discovered, the thoughts and emotions that colored this effort also couldn't be grasped. In fact, in giving it away (or at least lending it), the house seemed to expand in all directions (certainly in the cleaning this is true!) As we closed in on moving out, the house took on a life and dignity of its own.
Like any activity, giving creates its own momentum. When we give, the world shifts and how we see the world changes. Staring at the contents of my sock drawer that will go to the basement, the question "is it for me or against me?" doesn't really apply. For or against? Perhaps it is both — or neither. Who knows? More to the point — who cares?!
At the bottom of a sock drawer, humor dawns and the mind grows lighter. I begin to wonder, is my persistent and solemn search for satisfaction and security purely an invention? An imagined drama unfolding in a world full of things that, in truth, can neither be grasped nor given away. And, if what I want is imagined, where does that leave me?
These questions and insights encourage both appreciation and letting go. They are generous. Maybe, as our teachers have been telling us for centuries, the ground of giving — generosity — isn't something we do, but something we know — our birthright as nobly born human beings.
~~


Acharya Michael Greenleaf is a volunteer at Samadhi Cushions who works on marketing and internet issues. He is also a meditation teacher with many years of experience in the Shambhala community. Michael is a member of the core faculty for Mukpo Institute at Karme Choling. His professional training includes a CPA as well as an MBA in finance. Michael credits his Buddhist practice with helping him see the dreamlike nature of financial information.
Post Tags:
Dharma Teachings
,
generosity
,
generosity practices