Friday
Scene and Heard
Meditated Murder: A Dharma Mystery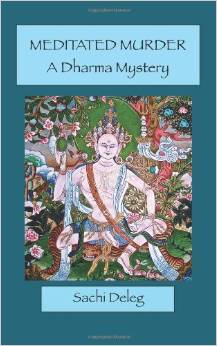 The Shambhala Times brings you new "Summer Reads" by members of the Shambhala Community…
The following is an except regarding the nature of appearance/emptiness from the book entitled Meditated Murder: A Dharma Mystery. It is by Sachi Deleg, a pen name for long time Shambhala practitioner Sasha Loring, and is available at Amazon Books.
Sasha Loring says: I am a psychotherapist and teach mindfulness programs in Durham, NC and nationwide. I studied with Chogyam Trungpa Rinpoche, Khenpo Tsultrim Gyamtso Rinpoche and Sakyong Mipham Rinpoche, and have spent several years practicing meditation in retreat. This book is loosely based on my experience in a one-year-long group retreat and is also inspired by my love of murder mysteries. My aim was to use this combination as a platform to present Buddhist teachings in an engaging manner – and hopefully readers will be entertained and also learn something.
The story takes place in a year long group meditation retreat in Nova Scotia:
After a delightful evening I make my way back to my room. As I change into the long cotton gown I sleep in, a strong memory arises of the week before coming to this retreat. I am shopping in a mall for last minute items to take into retreat when my attention becomes completely riveted. Hanging alone in a store's spotlight, is a pair of the most striking and lovely red silk pajamas I have ever seen. I'm drawn closer and closer until my hands reach out and touch the buttery soft fabric, thick and lush.
It is a deep, throbbing red, and trimmed on cuff and hem with beautifully woven oriental brocade. My chest is tight with longing. 'Wake up!' an inner voice says. 'You are going into a monastic retreat for a year! You will be hairless, for god's sake, not to mention celibate. What on earth will you do with red silk pajamas?' True, all too true. But nonetheless I remain captivated. The tension of desire is palpable, my senses on high alert. Why am I doing this to myself?
Finally, my many years of meditation training begin to kick in. Do not reject longing desires nor accept any attachment to desires. I start to observe, without judgment. As the Buddha said, my eyes are on fire with wanting. My mind is lit up with associations and memories and has projected an elaborate storyline onto this cloth. I've been captured by a deeply engrained urge to engage in the play of attraction, the promises of sensuality, of pleasure, of love. And why not?
'Well, my dear, there is that small problem of impermanence, of change, and of the fact that you are aging faster than you would like to admit.' What do I truly want in this life? I have looked closely at the results of fueling the fires of sensual pleasure, and while admittedly dazzling, it is much like drinking ocean water – the more you drink the thirstier you get. If I can see this process clearly as it is, without the usual responses, there is the potential of breaking the chain reactions that keep me bound in suffering.
Meditation practice can bring a cooling breeze to the intense heat of craving, and it can allow a glimpse of the inherent peace at the core of our being. Then there is the possibility for the compelling energy of "wanting" to be motivating rather than burning – motivating toward wisdom and toward truly loving others.
Even beyond my own internal struggle, where exactly is the thing I want? Is it the color? Like a mirage in the desert, the red appears, but changes with each shift of the light. It is impossible to pin down what color is actually there. Further, what possible difference could "owning" red make – it freely exists everywhere.
What about the fabric? If the seams were to unravel and the pieces separate, they would hold no interest. Somehow, when joined together all the "pajama" associations arise and we follow attraction, rejection or indifference, like a cow pulled by a ring in its nose. On closer inspection, some of the seams are crooked, and others are already loosening. All composite things will eventually fall apart, all that comes together will separate. And this doesn't even take into account the inevitable food stains that will befall this illusion of perfection if it comes into my possession.
A more relaxed, discerning awareness begins to infiltrate my experience. Even though these pajamas are "empty" of the projections my mind has automatically applied, the appearance can still be appreciated, enjoyed as it is, and released. Even further, I can leave it for others to enjoy and rejoice in the pleasure it may bring them. My hands can now open rather than grip. My heart can feel full rather than needy, and my mind can relax.
I give a nod of appreciation to this sturdy blue nightgown I'm wearing and crawl gratefully beneath the covers. Of the Thirty Four Contradictions to Embodying Virtue I have made a small step toward not remaining in the grip of samsara due to desire and attachment.
Post Tags:
book announcements
,
book release
,
Dharma Snacks