Monday
Featured Stories
Naropa Turns 40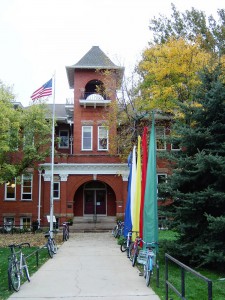 COLUMN: Radical Compassion
Celebrating Naropa University's 40th anniversary
article by Jaclyn Hawkins, Naropa University
"We must begin our practice by walking the narrow path of simplicity, the hinayana path, before we can walk upon the open highway of compassionate action, the mahayana path."
~ Chogyam Trungpa Rinpoche
Naropa University, located in the foothills of Boulder, Colorado, is in the midst of celebrating its fortieth year anniversary. With over 200 planned events throughout this year, ranging from the Radical Compassion Symposium, the [Dis]embodied Poetics Conference, and an inaugural Alumni Weekend, this fortieth anniversary offers an opportunity to pay tribute to Naropa's lineage, and look towards what the future holds for the university.
Following the first summer session of 1974, many artists and Shambhala community members studied with Rinpoche, who "would first tell his students to sit on a cushion for a day, a week, a year, and follow their breath. The quality of the students' creative process changed significantly after they made a commitment to a personal contemplative practice," stated Naropa University President Charles G. Lief during a recent interview. This deliberate foundation building continues as a tradition of Naropa, and speaks to Rinpoche's paths of the hinayana and mahayana.
These paths continue throughout October 2014 at Naropa University as a wide variety of guests will present at the Radical Compassion Symposium and the [Dis]embodied Poetics Conference. Hosted by Naropa's Jack Kerouac School of Disembodied Poetics, the Poetics Conference will "create a unique opportunity for the community, alumni, and members of the poetry community nationwide to come together over writing in contemplative and collaborative spaces and to learn from one another," stated Ariella Goldberg, Program Assistant of the Jack Kerouac School.
Additionally, the Radical Compassion Symposium will host guests ranging from Joanna Macy, an environmental activist, to contemplative Christian Adam Bucko who works with homeless youths in New York City to the Naropa lineage holder, Sakyong Mipham Rinpoche, whose work is centered in urban centers. The presenters at this symposium are a "diverse group of people who are all changing the world for the better, through scientific studies, through on-the-ground activism, through contemplative activism, through creativity," stated Charlotte Rotterdam, Director of Naropa's 40th Anniversary. The planning stages started two years ago, and from these generative conversations sprouted the over-arching goal for Naropa's fortieth anniversary events, the "Mission of Three C's: connect with the community, celebrate our lineage, and contribute to the future," expressed Rotterdam.
Through this vision, the symposium was titled "Radical Compassion, as it is Naropa's mission to 'see the world,' see the suffering and let our hearts break open to let radical compassion arise in that experience," stated Rotterdam. This concept is integral to Naropa's lineage and future, as "Radical Compassion was deliberately chosen to tie in how research and compassion are at work in the world. It is one way to understand the founder's vision, his urgency that we have a responsibility to help the world," stated Judith Simmer-Brown, Distinguished Professor of Contemplative and Religious Studies at Naropa University and Senior student of Rinpoche, an Acharya (Senior Buddhist teacher) in the Shambhala tradition.
Naropa University's balance of rigorous academics and contemplative practices are also grounded in the concept of 'radical compassion,' as the undergraduate and graduate programs are "designed to ease discomforts of the earth on a lot of different levels," stated Janet Erickson, Dean of Admissions at Naropa. Erickson discussed the various academic programs at Naropa, ranging from psychology to environmental studies, from writing and poetics to religious studies, each offering "many avenues towards healing each other's pain. We are teaching academics and experiential learning and self-reflection so students can learn at a very core level, fully embody the material, and take it out into the world." Naropa President Lief echoed this sentiment, acknowledging the faculty and students that are "transmitting this legacy in a current and fresh way." The students and faculty and staff of Naropa are the torchbearers of the university's legacy into the future and across oceans, as plans for international collaboration are in the works.
On August 27th, 2014 the Center for Advancement of Contemplative Education will be re-launched, which at one time was the focal point for all things contemplative education; this process will include hiring new staff while supporting faculty and staff for new international workshops in multiple areas of study, including mindfulness and wellness. Additionally, Naropa is re-launching the "Sixth School" in a much more "disciplined way, focusing on leadership, education, and healthcare, while enabling online courses, certificate and degree programs, and faculty to pilot new programs," stated President Lief. Naropa, among other American universities, recently signed an agreement with the Royal University of Bhutan to establish a study abroad program at various campuses throughout Bhutan to be launched in January 2015. These programs are an exciting testament to Naropa's future. "The intention behind Naropa has always been to give it away, and we can remain a bricks-and-mortar institution on a dispersed international model that's integrated with like-minded institutions around the world. There's no reason that someone wouldn't have a real Naropa experience in Bhutan or the Congo or Italy because we are very deliberate in providing that opportunity and engagement," stated Preside Lief.
"How does one balance a contemplative life and have the opportunity to apply that practice to the world? Whether that expression is through poetry or playwriting or counseling or psychology, whatever it is, this is an opportunity for us to say that there's broad, social relevance of contemplative practice to living, existing, and blending these two streams of activity is very important," stated President Lief, which again speaks to Rinpoche's understanding of the hinayana and mahayana paths. Naropa's fortieth anniversary events offer this opportunity to blend streams of contemplative application through radical compassion and a multitude of voices and backgrounds and practices. As President Lief stated, "There is no doubt that what has evolved at Naropa University throughout these four decades would make Rinpoche smile right now."
~~
For more information on Naropa's 40th anniversary events and speakers, please visit www.naropa.edu/40
Post Tags:
Chögyam Trungpa Rinpoche
,
Naropa University
,
Radical Compassion
,
retreat.guru