Friday
Featured Stories
One-Stop Retreat Planning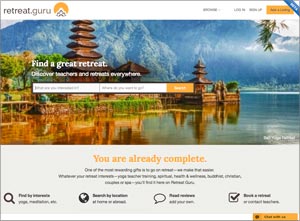 Introducing: Retreat.Guru
interview with Cameron and Deryk Wenaus
by Jayne Sutton, Shambhala Times Reporter
It started when Cameron Wenaus wanted to go on a yoga retreat in Thailand: "I realized that I just didn't know how to find the information I needed to identify a good teacher, retreat, or center." So Cameron stayed home, but he and brother Deryk came up with a brainchild — retreat.guru, described by both as "a TripAdvisor™ for retreats and teachers."
Now in beta release, retreat.guru offers the user a searchable source to find centers and teachers focusing on meditation, Buddhism, wellness, yoga, and beyond. "In its early stages, it's a discovery tool to find retreats and teachers across many disciplines," says Cameron. Beyond that, the brothers envision the growth of a community of users who will share and rate their experiences, making it easier to find the right retreat in the right place, with authentic teachers from a variety of traditions and disciplines.
The Shambhala community will of course be familiar with Cameron and Deryk as the founders of Blue Mandala, the architects behind so much of the great IT infrastructure that has brought us together as a community over the years, from Shambhala.org to the Shambhala Network, Shambhala Media, Samadhi Store, Shambhala Trust, the city center website templates — and of course the Shambhala Times. Their success with developing these mainstays of our global community was a part of their inspiration for launching retreat.guru.
"We've been working within this community for many years, and we've always wanted to find a way for smaller centers to have great tools," says Cameron. "Our experience with developing the web templates for Shambhala Centers gave us the confidence to try offering them — for free — to a wider audience of retreat centers beyond our mandala."
Teachers and retreat centers will be able to list themselves, their events, and retreats at no charge; users also can set themselves up with a free account, or log in through Facebook. Once there, they can browse the site by teacher, center, or event — or search by area of interest or by location. Blue Mandala will provide the listing teachers and centers with support, helping to drive traffic to their pages on the site through search marketing, press promotion, and social media.
At first the idea behind the site was to provide an accessible platform for retreat centers, but as Blue Mandala investigated further, they found that their users are primarily interested in identifying specific retreats and teachers; the venue, while important, is secondary.
That was the first major pivot in the development process. Blue Mandala expects there will be more; as Cameron stresses: "This is our first leap — we don't know how this community will eventually gather. We don't own this." A lean startup and rapid implementation model makes the site flexible enough to respond to shifts in how the community wishes to use it.
And that's the point — both Deryk and Cameron have been going on retreat for many years, and that has inspired in them the wish for as many people as possible to have the experience of deep, authentic retreat, a chance to directly experience their innate goodness. Blue Mandala intends to do whatever it can to foster a community that can support the retreat experience for as broad a community as possible. As Cameron puts it, "This is the beginning of a really exciting possibility — of opening up to what I think of as 'big-tent Shambhala.'"
The site had its "soft launch" in late June, and work is progressing apace to bring its full functionality up to par for a grand opening in early fall. At that point retreat.guru will be a one-stop resource where practitioners can browse, read and post reviews, select teachers and retreats, and register and pay for their program of choice on the spot. A promotion in partnership with Shambhala Mountain Center and be present offering the chance to win a retreat, yoga apparel, travel expenses, and more has launched today. Visit the promotion to win a free retreat for 2 at SMC, $500 in yoga clothing  from be present and $500 in travel money!
~~
Also rolling out this autumn is a new partnership between the Shambhala Times, Retreat.Guru and Naropa University, which will take the form of a new Column on the Shambhala Times called "Radical Compassion". Shambhala Times' Editor-in-Chief Sarah Lipton will be teaming up with Cameron Wenaus to interview leading teachers, thinkers and innovators from Naropa's lineup for their Radical Compassion Symposium. The interviews will focus on the perspectives of radical compassion from the ground of looking at creating enlightened society, and will be available in a wide range of presentations. Stay tuned for some fun social media campaigns and contests that will be part of this partnership!
Post Tags:
Radical Compassion
,
retreat
,
retreat.guru
,
retreats