Wednesday
Featured Stories
The Wolves of Mind
Reflections on Retreat
COLUMN: Radical Compassion
Shambhala Times Exclusive Interview with Noah Levine
conducted by Cameron Wenaus of retreat.guru and Sarah Lipton, Editor-in-Chief of the Shambhala Times
transcribed and written by Emma Sartwell, Shambhala Times Volunteer
written by Jayne Sutton, Shambhala Times Volunteer
One evening an old Cherokee Indian told his grandson about a battle that goes on inside people. He said, "My son, the battle is between two wolves inside us all. One is evil. It is anger, envy, jealousy, sorrow, regret, greed, arrogance, self-pity, guilt, resentment, inferiority, lies, false pride, superiority, and ego. The other is good. It is joy, peace, love, hope, serenity, humility, kindness, benevolence, empathy, generosity, truth, compassion, and faith."

The grandson thought about it for a minute and then asked his grandfather, "Which wolf wins?"

The old Cherokee simply replied, "The one you feed."
In a recent interview with Cameron Wenaus of retreat.guru and Shambhala Times Editor-in-Chief Sarah Lipton, Noah Levine — author of Dharma Punx and founder of the Against the Stream Buddhist Meditation Society — reflected on this Internet meme and how it relates to the experience of beginning practitioners, going on retreat, and developing a sense of one's own worthiness.
"I think that that's a lot of what the dharma is — it is feeding the wisdom mind and it is feeding the heart, and more and more depriving that negative, habitual, judgmental, critical, negative tendency of mind." As beginning practitioners confronted with these seemingly opposing forces, Noah says, our usual course is to try to suppress, ignore, or override the "bad" mind, hoping that the enlightened wisdom mind will prevail once and for all and then the struggle will be over. We may even think that we should defer going on retreat until we are somehow more ready.
According to Noah, that kind of thinking can lead to a paradox, a "vicious cycle: I don't feel worthy of taking positive action, so I don't take positive action." But the more accurate view is that we can fully step into and experience our obstacles — that is the path to a more mature understanding of our own two wolves.
"You can't wait till you feel ready to go on retreat, you gotta just go on retreat. You gotta just go and walk through the fears and walk through the difficulties." In fact, it is going through the resistance, doubt, and fear that in the end somehow leads us back to the understanding that we're on the right path after all.
There's no doubt that when we feel, even briefly, compassion, love, and appreciation for ourselves, our way of acting in the world can completely shift. But, Noah says, "I couldn't wait until I felt worthy to start acting skillfully. I had to act as if."
"In my first few years of meditation practice, I still didn't feel worthy, but I was getting some relief from my mindfulness practice, and I was doing the compassion and the forgiveness and the loving-kindness — I was doing all those practices and not feeling worthy of them, but I was motivated to persevere… So the worth and the coming to that experience of knowing that we are worthy — that I am, and that it's a universal quality — came often from actions that I took when I wasn't feeling it."
He likens the confused, judgmental, negative mind to Mara, who besieged the Buddha on his path to enlightenment, trying to divert him from his path. "I like to remind people that even after the Buddha became fully enlightened, Mara was still there. What that says to me is that even fully liberated beings aren't free from confused thoughts arising in their minds. What happened for the Buddha is that he had perfected his relationship and he would just say, 'I see you, Mara.' It gives us that potential of relating to those thoughts rather than from them. Rather than let them chase us out of retreat, we can say, 'Okay, it's just the mind and I stay.'"
Through the experience of deep practice in retreat, Noah says, we can come to understand that these two wolves are really aspects of the same mind: "What we're at battle with is our survival instinct — this human, biological, evolutionary body that we live in — that has the capacity for mindfulness, compassion, and not taking it personally… we can actually retrain our minds out of a survival-based level, which creates greed and hatred and delusion, into an awakened level that renounces greed and hatred and delusion." And that is when the wisdom mind can shine out from the mind of confusion and doubt.
Read more articles in the Radical Compassion column by clicking here.
~~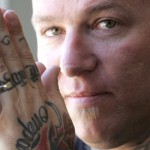 Noah Levine is a Buddhist teacher, author and counselor. He is trained to teach by Jack Kornfield of Spirit Rock Meditation Center in Woodacre, CA. He teaches meditation classes, workshops and retreats nationally as well as leading groups in juvenile halls and prisons. Noah holds a masters degree in counseling psychology from CIIS. He has studied with many prominent teachers in both the Theravadan and Mahayanan Buddhist traditions. Noah currently lives in Los Angeles, CA.
Post Tags:
Noah Levine
,
Radical Compassion
,
retreat
,
retreat.guru