Friday
Featured Stories
Leveraging Compassion
COLUMN: Radical Compassion

Shambhala Times Exclusive Interview with Noah Levine

conducted by Cameron Wenaus of retreat.guru and Sarah Lipton, Editor-in-Chief of the Shambhala Times
transcribed by Emma Sartwell, Shambhala Times Volunteer
written by Amanda Hester, Shambhala Times Volunteer
Noah Levine is an American Buddhist teacher in the Theravadan tradition, he is also the author of Dharma Punx: A Memoir, and Against the Stream. He leads meditation workshops and retreats across the United States, and, as a member of the Prison Dharma Network, he works with juvenile and adult inmates through a combination of mindfulness meditation and psychotherapeutic counseling. Our editorial team caught up with him to ask about his personal experience of overcoming addiction and channeling that energy into compassion. We asked him about the moment when he decided to engage with his mind in a different way.
Throughout his adolescence Noah Levine describes himself as being antisocial: "I could cause harm and not feel bad, my heart was so closed. I was so shut down that I rationalized my actions and blamed pretty much everyone else: it was society, the system, it was the police, it was everyone else's fault, not mine."
The turning point came when Noah was 17 years old. For a number of years already he had been struggling with hard-core drug addiction, crack and heroin, with crime and having been repeatedly incarcerated, and he had been arrested yet again, and was heading to prison.
He describes that moment of being arrested, intoxicated, and suddenly finding clarity, for that one moment all of the denial and rationalization was temporarily lifted and he was able to take some responsibility for where he was and how he'd gotten there. He was able to recognize that while there were problems and suffering in the world, he was the one choosing to take drugs and do crime. He realized, "This is my choice, my dysfunctional response to the problems in this world".
It was shortly after his realization that Noah's father (Buddhist teacher Stephen Levine) said on the phone one day, "Maybe you're ready to try meditation." It was a timely suggestion, and one that joined with Noah's newfound sense of responsibility to bring forth a great sense of shame for his past actions, but also a sense of hope.
Noah describes thinking, "Well, if I got myself into this situation, perhaps I can get myself out. I was desperate enough even to try something that made such little sense to me, like meditation. Although my first thought was, 'hey dad how about some real help, like a lawyer or something? I'm about to go to prison and you're teaching me meditation – great, thanks.' But as it turned out, those simple mindfulness meditation instructions that I began with became very central and core to my path."
During his next incarceration Noah began to practice meditation, sitting in his cell. For the first time in his life he realized that he could ignore his mind, ignore the negativity and addiction that was fueling his thought process. By bringing his attention to his breath, rather than leaving it stuck in his negative thoughts, he was able to find a little bit of relief.
He describes, "There was a temporary relief from being identified with the fears and the shame." Noah explains how, being a good little addict, he figured if meditation could help a little bit, than more meditation could help a lot. From this first impulse he was then able to get that addict's mind to work for him, bringing him back to the cushion.
Noah eventually became obsessive about mindfulness, thinking, "what if I do it a lot and what if I go on some retreats and maybe I could actually get enlightened, maybe this is what I was looking for the whole time. He describes realizing that he was never able to find what he was looking for in drugs, sex, attention, money, or violence, in all of these "confused unreliable refuges." In meditation, however, he was finally able to find "a reliable refuge."
While it didn't instantly make everything okay, Noah was able to find hope in the practice of meditation. It took him a few years to get serious about it, and he tells us about how in the beginning, even while meditation was helping him, there was still some idea that the material world was what would bring him happiness: "I thought, if I get out of jail, and if I get off of drugs, if I get the car, and the girlfriend, and the stuff, then I'll be happy. I'd meditate some, but I still thought of the stuff, that the material sensual illusion might work for me. It took a couple of years to realize that I'd gotten the stuff – sure I'd stolen a lot of it, but I still got it – I'd got the stuff and I was still not happy. I had the relationship and I was miserable. I realized that the only place that had really given me some hope was meditation, and that is when I started going to retreats and sitting daily, and really studying the dharma."
While one might think that the habitual mind of the addict is a thing to be gotten rid of, Noah Levine illuminates how it can be leveraged and used in a constructive way. As he says, "It was that compulsive, obsessive, overdoing-it tendency that best served me in my dharma practice. Even though it was imbalanced at the beginning, it got me really motivated; it got me practicing a lot . . . I wanted escape, I wanted freedom, so what got me involved in punk also got me involved with drugs, and then when I got involved in the dharma it gave me hope, like, these guys are offering real freedom, and I want that. I'm committed to it, and I'll do the hard work, and I'll hang in there through these unpleasant retreat experiences for some true long-term benefit."
Noah's experience can help us understand that even in the midst of confusion and suffering, or for those of us in recovery, our mind isn't broken; in fact it is the very place to begin. As Noah says, it is all about where we channel our mind's energy, and what we put it into, whether we put it out into the world, or into drugs. "It is a fierce energy, and if we channel it into practice, into service, and into compassion, well then we are going to be very effective."
Read more articles in the Radical Compassion column by clicking here.
~~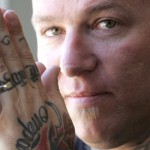 Noah Levine is a Buddhist teacher, author and counselor. He is trained to teach by Jack Kornfield of Spirit Rock Meditation Center in Woodacre, CA. He teaches meditation classes, workshops and retreats nationally as well as leading groups in juvenile halls and prisons. Noah holds a masters degree in counseling psychology from CIIS. He has studied with many prominent teachers in both the Theravadan and Mahayanan Buddhist traditions. Noah currently lives in Los Angeles, CA.
Post Tags:
compassion
,
Noah Levine
,
Radical Compassion
,
recovery
,
retreat.guru