Saturday
Arts and Poetry
Listening in Color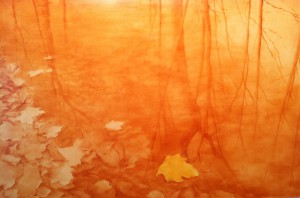 COLUMN: Celebrating the Arts
article and painting by Christine Labich, Western Massachusetts
The inspiration arrived on a late afternoon in October. The New England hardwoods were blazing against a blue sky, and I was standing on the muddy bank of a small brook. Decaying leaves pushed up against the bank, and newly fallen spots of color floated on the surface. The sparkling sky and trees were right there in the water, and the rocky stream bottom glowed where sunlight landed. It was disorienting, glorious, fleeting. I took a picture.
On a cold December day, I stood in my studio and looked at the photograph. Seeing and feeling is such a mystery! I was no longer standing on the bank of Amethyst Brook, there was snow on the ground outside, and the glorious moment was gone. But still, I could feel its echo — as if something had been communicated that day and was now inside. If I tuned in, I could feel it like a presence.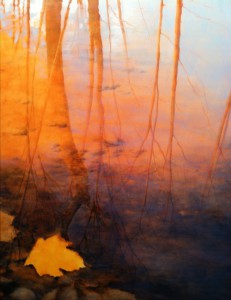 I decided to listen, to follow it. White primer on wood, sanding, more primer, more sanding – it would be the most challenging painting I'd ever started. Would I be able to communicate even a glimmer of what I felt? I knew that being able to see the bottom of the stream in the lit places, and having other parts of the water bouncing with reflections of the trees and sky would mean using both transparent and opaque painting methods, and when layers of transparent paint are involved, the motivation to not goof up is high — even after five or six layers, you can see through to your first marks.
I washed the whole board with the color of earthy sunlight, and painted in a thin layer of darks — the reflections of tree trunks, the shapes of old leaves, and the roughness of the stream bottom (first photo). Then I wondered what I had gotten myself into.
When I think of meditative or contemplative arts, I often think of spontaneous forms — the immediacy of single ink strokes on paper, or the present, clear seeing of Miksang photography. The process of this painting was more like a long mindfulness retreat where you come back over and over again to the object of meditation. I remember thinking as I started to paint that this would be an experience of working with patience. Not the kind of patience where you are waiting for something to happen, but the kind that Chogyam Trungpa Rinpoche describes in Training the Mind: patience as the absence of aggression.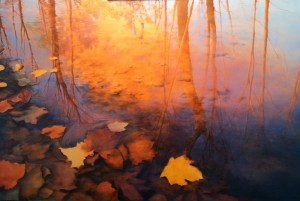 I worked on it for almost two years. Some days I came to the studio and just looked at it, some days I worked on other paintings, and some days I was busy with family. But every time I turned my attention in the direction of this image, I knew that the only way to build a bridge between inspiration and reality was to look without aggression at the board in front of me, to touch in to the feeling I wanted to share, and to only act from that. When I acted from any other place — from impatience or frustration, the painting was quick to point it out.
After the layers of earth colors, I began to describe the deep blues of the water closest to the shore and the shadowy places under rocks and between leaves. There were some fun and exciting moments when I first added an opaque layer of mixed white and blues to the areas where the sky reflection is lightest (photo two above, detail). There is something thrilling about broken opaque paint over shadowy figures.
At one point, after the major shapes were present, I admitted to myself that I was avoiding the center and center-left parts of the painting. In the center, I wanted a feeling of being unable to tell where the bright reflections of the sky ended and the sunlit rocks and sand began. I wasn't sure how to create that. In the center left, I wanted to appreciate the surface tension of the water, and how the different angles of leaf edges poking up might affect the reflections of sky and branch. I didn't know how to do that either. Some parts of the painting had come together so quickly and were yummy to look at, but these other areas felt like a mystery (third photo above).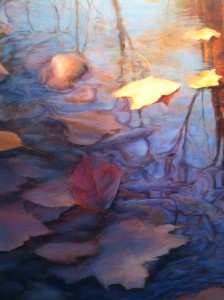 But, the only way to go with a painting is forward. These areas became the focus of my attention. At one point, I spent 3 days in a row on a small section of where water meets leaves. It felt like groping in the dark (fourth photo here, detail). The practice was the same, but on a subtler scale, both internally and on the wood: notice doubts, panic, excitement, boredom, distractions, impatience, and satisfaction, and come back to this brush, this square inch of color, this feeling.
Now that I am finished, there are areas of the painting that I like better than others. There are places where what I tried just didn't work, and I spent hours trying to bring a small section into resonance with the larger image. There are sections of the painting where my eyes linger and rest, and others where a fleck of blue against orange makes my heart flutter. I find it rich and a little disorienting, a glimpse of what was communicated to me on the bank of Amethyst Brook (5th photo below).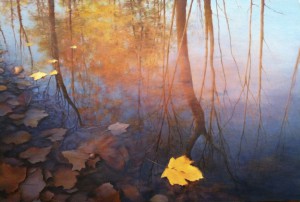 Rationally, it makes no sense to try to express an experience like being on that October shore in paint. It makes no sense to respond to the impossibly rich, swirling display of the natural world on a rectangular surface with brush and pigment. But, as I think of it now, it seems like an aspect of joining heaven and earth. Appreciation, joy, and richness joined with paint and wood, and the bridge between the two is the practice of showing up, tuning in, coming back, allowing eyes, feeling and body to act guided by inspiration.
Sometimes I forget, and think of practice as something I do to improve. But, more and more, I am finding that practice is what creates reality. In life and in paint, what we practice becomes visible.
~~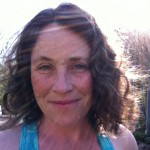 Christine Labich paints and teaches in the Pioneer Valley of Massachusetts, where she lives with her husband and children. She was an evolutionary biologist and student of environmental studies before turning to painting as a way of expressing appreciation for the world. She has won many national and international awards for her work. All of her paintings could be titled, "Look! Look how glorious the world is!" See more at www.christinelabich.com.
Post Tags:
arts
,
Arts and Poetry
,
painting