Wednesday
Featured Stories
The Power of Interconnectedness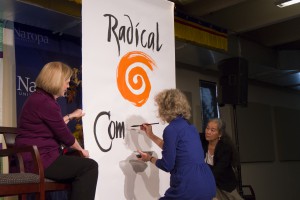 Radical Compassion Symposium Draws upon the Power of Interconnectedness
report from the scene by James Gilness, Shambhala Times Volunteer Reporter
photos courtesy of Naropa University
The Radical Compassion Symposium opened last Thursday evening with the memory of Naropa University's founding some forty years ago. Sakyong Mipham Rinpoche recalled the intentions of his father, Chogyam Trungpa Rinpoche, who launched the institute. Chogyam Trungpa would have been proud to see the impact of his vision in its contemporary setting. The idea of radical compassion seems appropriate at a moment the Sakyong called a "pivotal time in human history."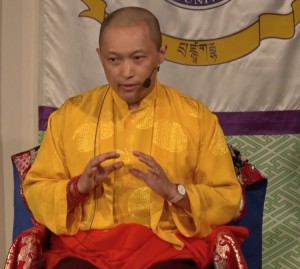 With the present-day conflicts in the Middle East and Central Asia, the urgency of climate change, the resource demands of seven billion humans, and the snowballing anxiety of an unprecedented Ebola outbreak hitching rides to new continents, compassion is obliged to take action. As Sakyong Mipham Rinpoche said in his opening keynote, we need more than an internal change – we need to act as well. To have compassion is one thing, but "to actually be compassion is very challenging." Confronting these challenges with courage is where the radical part comes into play. It invokes the spirit of the fierce bodhisattva.
In the face of intimidation, Rev. Joan Brown Campbell described courage not as fearlessness, but as setting aside fear to meet needs of greater importance. In a panel discussion with Joanna Macy and Vandana Shiva, she added that we too often don't take bold, brave steps because we fear the repercussions of our involvement. Campbell also referred to Karen Armstrong's Charter for Compassion as a monumental step toward rectifying religious divides – particularly in an age when Muslims face vilifying prejudice based on the actions of fundamentalists.
Vandana Shiva echoed that call to resist the divisiveness of fundamentalism. Rather than the paradigm of separateness that pervades our education, she said, we must now teach, learn, and consider our interconnectedness. Both Shiva and Joanna Macy delivered powerful messages about the dangers of Earth's environmental predicament and the fears that keep us silent on the issues. Considering current atmospheric carbon levels, hydraulic fracturing, and genetically modified organisms, we have generated changes that will remain beyond the anthropocene epoch, ad infinitum. Toward the close of her Friday evening keynote address, Vandana Shiva invoked the Native American maxim (shared by a similar ethos in South Asia) about considering how our actions will affect people seven generations from now.
Connecting these environmental concerns with the compassion we cultivate inside, Sakyong Mipham Rinpoche asked, "If we have internal deforestation, then how can we address external deforestation?" For four days, dozens of speakers and hundreds of participants engaged with questions like this, connecting environmental concerns with human health, youth activism, neurology, art, and beyond, all under the umbrella of radical compassion.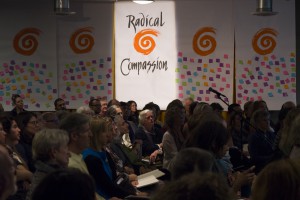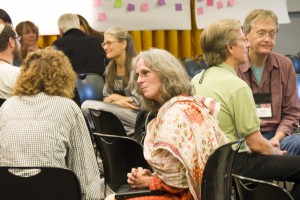 …….No doubt, each participant walked away with unique and evolving definitions of what radical compassion means to them, but a common thread weaves through all of them: we are all interconnected. We are inseparable from the earth, from our bodies and minds, and from each other. How fantastic it is to embody compassion accordingly!
Post Tags:
Naropa University
,
Radical Compassion
,
Sakyong Mipham