Monday
Community Articles
Basic Goodness of Reality
A Rookie Teacher and Long-Time Practitioner Checks out What Shambhala Presents to People who Walk in the Door Today…
by Elaine Logan, Longmont, Colorado
Jim Fladmark, Boulder Shambhala Director of Practice and Education, wants older students to get more involved. Jim says, "Check out the new participants, the new curriculum. These questions [such as what is reality] are not so much about finding an answer as about continually asking the question. … guiding people through the yanas [Buddhist teachings]. Having people talk to each other as much as to the teacher."
I love the traditional Shambhala Training curriculum with endless meditation, walking meditation, and long talks. In 1980, I read Meditation in Action by Chogyam Trungpa, and I never looked back. Now I'm 60 – an old dog rookie meditation instructor. So I decide to try out the new Basic Goodness weekend and see what is "Real."
Sure enough, during this weekend we engage – we talk to each other. Friday evening, I sit in a circle and look around at my fellow participants.
Harper's my first dialog partner. (I don't use real names, except for the teacher.) Shastri Andrew Sacamano asks us to talk about: "What do you feel?"
I talk about feeling curious and happy. Harper goes next. Her eyes tear up when she talks about falling short. When she talks about her dog, she glows. I feel touched by her. I didn't expect to feel so connected.
Carson sits on a chair outside the circle. He growls about cruelty and suffering, social collapse, soldiers raping, killing, the demise of the unions. I sense his bitterness and I recoil. "The world is a sewer," Carson says. "Yet 20 people showed up for this."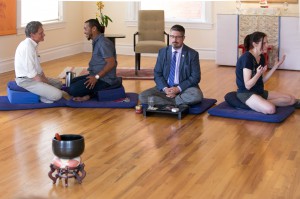 Dave can take a joke. When he starts to share what is real, a voice from the street calls out: "Fuck You!" Dave laughs. Everybody laughs.
On Saturday we discuss suffering, the cause of suffering (craving), the end of suffering (nirvana) and the path to end suffering. We also go on excursions. The Shastri asks us to walk the Boulder streets and write haikus. Harper shares hers with the group:
Squinting through the sun,
Beach towel stuffed under his arm,
He's walking alone.
Another time, we walk on the Pearl Street Mall. The Shastri asks us to watch our passion, aggression, and ignorance. "Watch it rise and fall away." I walk onto the mall and I feel passion. I want to hug everyone. I notice a "Save the sharks" poster in a make-up store called Lush. I wonder if I care about sharks and I see ignorance coming up – time to learn about sharks. In the store I revel in passion, looking at glosses, colors, and lotions. I buy vermillion lipstick and teal eyeliner. Back in the meditation hall, Harper and I smile and compare Lush purchases.
At Saturday's lunch, we go to Jai Pur on Walnut. I'm sitting next to Carson, but I talk mostly to Mike and Jeff. Carson tries to check in with me a couple times, but I can't relate, and soon he turns away.
After lunch, Shastri Sacamano says, "If the world is sacred, why do we lose sight of that? We put a patina of ignorance on it. … We don't like surprises. We are intimidated by someone so we avoid them. We are afraid of our own brilliance … not believing that we could be connected with our world so strongly."
On Sunday morning, we discuss purity, the third wheel of the Buddha's teaching. Shastri Sacamano says, "Emptiness and compassion are the same. When we relax enough to experience emptiness, we see … compassion."
"How do you experience that in your own life?" I say.
"Look around the room," Shastri Sacamano says. "Pick a person and look at them."
I look at Dave.
"Now put aside your concepts about them."
"OK"
"Now what do you see?"
"A human being."
"What else do you see?"
"Vulnerability and strength."
Before lunch, Shastri Sacamano asks: "Why should we care what is real?"
"Something will fall apart," he says. "Suddenly it becomes a very important question. It's good to be prepared with a subtle toolkit. There's that moment of 'Oh crap!' … How am I reacting? … the times that I've been able to recognize that there's more to it than my attachment, it's completely liberating. We begin to develop some kind of awareness and precision."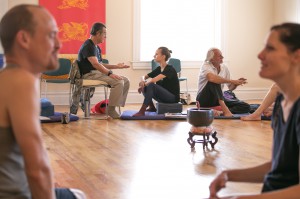 After lunch, I get back late. I see the gong in the middle of the room and James in my seat. James points to the seat next to Carson and says, "That's your seat."
"And that's your partner," Shastri Sacamano says.
I feel embarrassed. "What? I don't get to choose my partner?"
"Not this time," Shastri Sacamano says.
Carson waits, head drooping. I go sit next to him.
Shastri Sacamano talks about the gong. "Is it real?" he says. "What is real? Is it the sum of its parts?" His words fade. I come down to earth with a bump. I've been avoiding Carson and I just got nailed. I feel tears behind my eyes. Resistance – ignorance feels like a wall. But I know I have to face this. The rookie part of me wants to know how this turns out. I won't turn away.
When we face our partners, we answer the question: What is real? I nod to Carson and he starts to list everything he thinks real.
I fidget. I look down. My shoulders hurt.
" … Aging is real," Carson says, "Someone sitting in front of me pretending to listen, but not really listening is real."
"Hey, that's mean!" I say.
"What did you say?" Carson says, tilting his head, cupping a hand to his ear.
"That's rude!" I say.
"Oh, I didn't hear."
He continues. I watch him. I see Carson, his tight lip, his rounded shoulders.
When I talk, my shoulders relax. Something lets go inside me. Tears run down my face. I list all the things that I don't know are real. I open up:
"… I don't know what is real," I say. "After lunch, a man calls out to me from an alley. Hey, Lady, can I have your leftovers? I walk on. I'm talking to my daughter on my phone. Two blocks later, we hang up, and I remember the man from the alley. He doesn't want money. He wants my leftovers. And I go back. He's not there. I walk to the mall. I feel determined. I find him – a young man with tattooed arms. 'Did you speak to me when I walked up the street?' He says, 'Might have.' 'Did you ask for my leftovers?' He looks past my shoulder, 'Might have,' he says. I give him my leftovers. He says, 'You have a good day.' I say 'It's good. It's salmon.' I walk away and I feel the sun on my face. Maybe that's real," I say.
Afterwards, Carson whispers, "What is your sadness about?" He's gentle, like someone who cares.
Later, I get my cushion, and I see Carson. I say, "Thanks for being my partner." Carson holds out his arm. "Hug?" He hugs me and I feel the skin of his neck.
My ignorance falls away. My open heart of sadness remains.
A week later, sitting at my home shrine, I write a haiku.
Incense smoke furls up
Roses form and break apart
My heart runs after
~~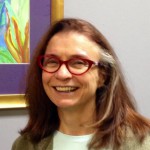 ​Elaine Logan left Scotland in 1984 and lives in Longmont, Colorado​. She is a Technical Writer for Seagate Technology. ​Elaine volunteers at hospice and the Boulder Shambhala Center​ and she is writing a memoir of life in Scotland. Elaine has a daughter, Rowena Lair who lives and teaches history in New York City.
Post Tags:
basic goodness
,
Boulder
,
Shambhala Training