Wednesday
Featured Stories
Surviving Ebola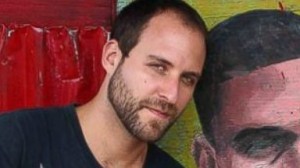 Letter from Ashoka Mukpo
to the extended Shambhala Community
Ashoka Mukpo, son of Lady Diana Mukpo, contracted the Ebola virus after working for a month as a freelance cameraman for NBC and other media outlets. After being diagnosed in Liberia, Ashoka was flown to the Nebraska Medical Center in early October, where he was isolated in a biocontainment unit, given constant fluids and an experimental Ebola drug. He made a full recovery, and lots of national news, and was able to return home to recuperate in Rhode Island. He has written this letter to us, his extended sangha.
I'd like to offer a deep bow of thanks and heartfelt love to you all. After I got sick, much of my world was instantly stripped away. In the space of fear and nakedness that I was suspended in while waiting to be evacuated, so much of my concept of what I thought was important revealed itself as illusion. What I was left with was what remained at the core of my being. My greatest attachments and deepest loves. You remained in my heart at a moment when I had space for little else. My family, my closest loved ones, and my lineage.
I want you to know how important you all are to me, and how thankful I am for your presence in my life. The outpouring of love and support that came from the extended Shambhala sangha was overwhelming and affected me deeply. This community that we share and have built is a blessing, and I'm lucky to be a part of it. I felt the love and companionship that so many of you offered into the wind and it gave me strength. It continues to make me strong.
Let's not give up on what we have or each other. I see now more than ever that this is about the person on the cushion next to ours, and the effect our presence and compassion can have on each other. I hope that I will have endless opportunities to offer the same love, generosity, and support to others that so many of you gave to me in the past few months.
To my eternal family of warriors: I love you all from the bottom of my heart, and I'm proud to be a part of your world. Thank you for being you and caring for your fellow practitioners. I hope you are encountering joy on your paths and offer a warrior's bow for helping me to carry on with mine. Ki Ki So So.
Love,
Ashoka Mukpo
Post Tags:
Ashoka Mukpo
,
ebola
,
Mukpo Family