Tuesday
Featured Stories
Wangmo Makes Its Online Debut
The Sakyong Wangmo is delighted to introduce Wangmo—a new online retail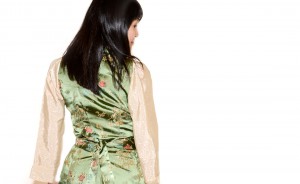 business—and announce the debut of its website, Wangmodesigns.com.
"My vision for Wangmo is to give women a chance to express their radiance, display their confidence, and enjoy the magic of being a woman," she says.
Wangmo features clothing, jewelry and home decor that blend the beauty and brilliance of traditional Himalayan culture with a modern, feminine sensibility.
Wangmo's selections showcase an array of modern and traditional designs, handwoven fabrics, vibrant textiles and rich colors from the Sakyong Wangmo's home region. Wangmo's pashimana shawls, cardigans and jewelry are carefully chosen, one item at a time, from the finest markets in India and Nepal, where fabrics are also handpicked and purchased in small batches for the highest quality.
Encouraged by requests from women in the sangha, the Sakyong Wangmo initially shared her love of fashion and design within the Shambhala community. With Wangmo, she hopes to offer a sense of lungta and elegance to Western women everywhere.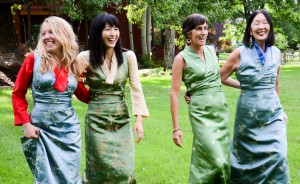 The half chuba is Wangmo's signature item, expressing the timeless beauty of Himalayan culture, tailored to a Western audience.  The half chuba can be worn as elegant eveningwear, fashionable work attire or as a practical alternative to pants.  "The surprising thing about the half chuba is how comfortable it is," says Lisa Johnston, Wangmo's director. "You can move freely in it.  After all, they're made for meditation practice." Handmade, Wangmo's half chubas are offered in elegant brocades and deep solids in a variety of textures and weights.
To create the website, Lisa teamed up with Sweet Design, owned by graphic designer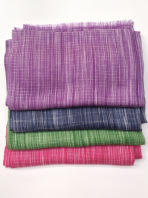 and Boulder community member Mary Sweet. "Mary and her team's abundant support and creativity have produced a beautiful showcase for Wangmo," says Lisa. "We received collaborative support from so many sangha friends to bring this to fruition, and I thank them from the bottom of my heart. For example, when you visit the website, you'll likely recognize most of our models. Many of them are sangha members in Boulder," where Wangmo is based. "Come take a look and see what Wangmo has to offer. You'll find not just beautiful 'things', but a whole sensibility. And be sure to join the Wangmo Facebook community so you can give us your feedback, receive notices of sales and special offers, and become a part of Wangmo's ongoing vision. Enjoy!"
Post Tags:
Clothing
,
Sakyong Wangmo
,
Wangmo