Saturday
Community Articles, Pacific Northwest
Jump the Gun
by Dan Peterson, Kadö
Desung Care and Conduct Officer
I turned on the AM radio while driving and was hooked. There was a shooting at Marysville-Pilchuck High School and five students were dead. The school was on lock-down and First Responders were on the scene, as well as local media.
Law enforcement officers went from classroom to classroom, securing portions of the large sprawling campus.  Intermittently classes were released to run about a quarter mile across open fields, across a rural road to a small church, where parents were waiting to meet their children.
I have a friend who is a special education administrator at the Marysville School District. She contacted a few of us who have backgrounds in special education, developmental disabilities, and mental health to be at the High School to provide support on the first day it reopened after the shooting.
My wife asked what I would be doing by going in on the first day.  I was very grateful to recall a Desung Training I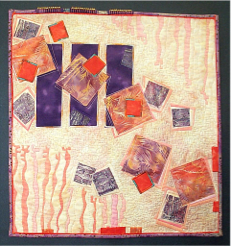 attended with Dapon H Simon La Haye. He said to drop all your tricks, all the expertise. It just gets in the way. To be truthful I couldn't think of any tricks to bring to this tragedy – just a broken heart and a willingness to be present.
Marysville is about an hour's drive north of Seattle. When the alarm went off at 5:30 a.m. it was raining and dark. Sometimes I wake from a quilted cocoon, and crawl into the morning cocoon of coffee, newspaper, and National Public Radio news. But this morning there was nothing familiar to crawl into.
In the early grey dawn I could see that Marysville homes and businesses were decked out with hand-made signs, some with flowers, ribbons or balloons attached. "We Love You, Marysville-Pilchuck", "The Alumni Association Supports Our Students," "Marysville Loves Our Students." A quarter mile chain link fence bordering one side of the high school campus was completely covered by ribbons, flowers and signs. I later learned that community members and families who didn't know what they could offer spent the weekend decorating the fence.
I parked and walked towards the main office to sign in. Busses were pulling up and letting out students. Each person arriving was greeted by more students waiting to give hugs, shake hands, and sometimes share tears. I had to pull myself together after witnessing this communal display of love and kindness before entering the school. I busied myself with signing in, getting a name tag, and greeting friends who were arriving to volunteer.
In Desung Training it is said that we are never off duty. Instead of writing about a school shooting, this account could just as well be about the fearless warrior opening the back door of the car and cleaning the papers and miscellany that accumulates there over time. Or about getting up at night to feed the baby, or kissing one's partner before going to work.
During the shooting, which occurred in the school cafeteria, a first year teacher saw the gun, and saw the students being shot. She saw the young student with the gun raise the weapon and put it to his head. She ran towards him and yelled "No!  Stop!"
I was assigned to sit in on several classes. Without a plan it was easy to make friends. I sat with a fellow and we colored in a thank you poster to send to Arlington High School. They had sent 1200 hand-written notes from each student to the students at Marysville-Pilchuck. Later I accompanied two students who had a job going from classroom to classroom to collect recycling. The school campus has a number of buildings with classrooms that let out into the outdoors rather than into interior hallways. As we walked from class to class I looked out at the fields surrounding the school. It was drizzling, and low mists came down to the damp ground. I was glad for the company of the two students, and I think they were happy to have me there as well. There was a palpable fear in that space between the buildings.

In the last class the teacher read a story about a high school girl who lost her mother to cancer.  The teacher wanted to use that as a springboard to discuss the school shooting. It was very difficult for several students. One student, who might be on the autism spectrum, raised his hand.  He said "My friend is having a problem talking about this so I want to explain something. It is called 'train of thought'. You started reading about death, and she thought about her friends who died in the cafeteria, and now she is crying. So one thought reminds her of something else, and that is called 'train of thought'."
Another student talked about being bullied, and how he has a dream that he can run faster than the wind to a hill in the distance where he has a hiding spot. Fantasies of being a wind runner, a martial arts expert, or packing a gun naturally come to mind when day-dreaming about life-threatening situation. David Whitehorn says that as Desung, which means 'bliss protector', we don't really protect bliss. Bliss doesn't need protection. What we protect is the capacity to experience basic goodness, protecting avenues so that we can remain open to each other. Our reactive fantasies shield us from a reality that might be just too vivid, however it helps to see them for what they are. Several students had a very difficult time discussing death, and I took them from class and walked with them down to the counseling center set up for students who needed a safe place to be.
The teacher then started a frank discussion about the incident. He said that when the lock-down was ordered, he discovered that he could not lock the classroom doors. He set up a curtain in the back of the room and had the students stay behind the curtain, while he stood by the door to hold it shut. The lock-down lasted four and a half hours, because the school had not updated the map of the campus to give to first responders, and several major changes had occurred on campus to accommodate growth in the last couple of years. Because of how long they were held in class a screen was set up in a corner of the classroom and a waste can with a plastic bag was set behind the screen to serve as a toilet. The shooting happened just before lunch, so the teacher opened up all the classroom treats to share as they waited.
As the discussion opened up the class became animated when they talked about seeing themselves on the news later that evening. They were filmed from a helicopter running from the school to the church. For the first time that day I heard some laughter as they teased the teacher, saying that they could recognize him running because of his bald head.
Our practices, teachings and teachers all work to soften and dissolve the barriers that separate us from others, from our world. I have condensed something Dapon M Dennis Southward said years ago at a Desung Training in Boston. It is something of a Desung slogan for me.
The war is over.
We are surrounded by the phenomenal world.
Our job is to surrender,
And to make offerings.
The next opportunity to learn more about the Desung view will occur April 10 – 12 in Tucson, Arizona.  Desung Arm Commander Jan Jercinovic, Rupon and Dapon M Dennis Southward will be offering 'Entering the Desung Path'.  For more information go to: http://tucson.shambhala.org/program_details.php?id=220945&cid=257
~~
Dan Peterson has been a Dorje Kasung since 1980, and currently serves as a Desung Care and Conduct Officer.  He lives in Ballard Heights in Seattle and works as a Mental Health Resource Manager for the State of Washington.
Post Tags:
desung
,
desung training
,
school shooting
,
warriorship